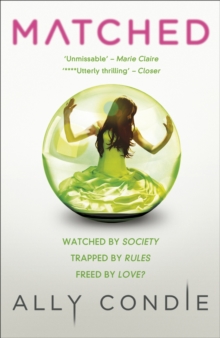 Matched
Paperback
Part of the Matched series
Description
Matched is the first book in an utterly compelling series by Ally Condie.On her seventeenth birthday, Cassia meets her Match.
Society dictates he is her perfect partner for life.Except he's not.In Cassia's society, Officials decide who people love.How many children they have.Where they work.When they die.But, as Cassia finds herself falling in love with another boy, she is determined to make some choices of her own.And that's when her whole world begins to unravel . . .'Don't miss this gripping page turner' - She'A must read' - The Sun
Information
Format: Paperback
Pages: 384 pages
Publisher: Penguin Books Ltd
Publication Date: 01/06/2011
Category: General
ISBN: 9780141334783
Other Formats
EPUB from £4.99
eAudiobook MP3 from £8.00
Free Home Delivery
on all orders
Pick up orders
from local bookshops
Reviews
Showing 1 - 2 of 2 reviews.
Review by Melanie_McCullough
16/06/2015
Oh. My. God. I cannot even begin to describe how much I loved this book. It was everything I could have ever wished for from a dystopian and more. I just want to squeeze it. Or sleep with it under my pillow until I'm clever enough to dream up something as brilliant. It was tender and touching in a way that reminded me of my profound love of Lois Lowry's The Giver. The Giver is the book that changed my life. The one I read at a young age that made me want to be a writer. Made me want to affect people with words. So to find a book reminiscent of it has made me insanely happy. Condie's writing is superb. Beautifully crafted. Every word has a point. A purpose. And was specifically chosen to create a society that is easy to understand, destined to be hated, and impossible to forget. From the very beginning, there were parts that made me tear up. Which is not something I do easily. My heart ached for Cassia and for Ky. For the choices that were seemingly beyond their control. I do have to warn you that this is not a Hunger Games-style dystopian. The pace isn't slow, but it's steady. Gradually building until the final climax. There is no overt action, it's all done very subtly, but the story is intense nonetheless. It's haunting and thought provoking. It's an incredible love story set against the backdrop of a society that believes choice leads to failure. And in a way, they're right. The instant Cassia begins making choices her once "perfect" world begins to crumble. But it is the freedom to choose that makes us human. I was always intrigued, wondering when the Society would exert their control and attempt to destroy the growing love between Cassia & Ky, but in the end, it all comes down to choice and the consequences of those choices. It's just amazing. I can always gauge my love of a book by my willingness to lose sleep over it. This one I read in one sitting, staying up until about 3 am to finish despite the fact that I was ill. Recommended to everyone. I personally feel it should be read and adored by the world.
Review by Nataliec7
16/06/2015
I found this to be a lovely well written book. I enjoyed the characters especially Cassia and Ky and the story surrounds them. Its based in a world wheere everything is chosen for you, from your food to your work and even your partner. I like the way it played out. The ending is slightly predictable in a sense and you are aware what Cassia will do but it does leave you guessing a little. Im very pleased with the way this book has been and am surprised I enjoyed this genre so much. I look forward to the next books in the trilogy.