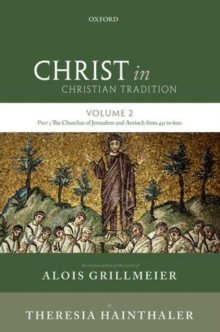 Christ in Christian Tradition: Volume 2 Part 3 : The Churches of Jerusalem and Antioch
Hardback
Description
This volume of Christ in Christian Tradition continues Alois Cardinal Grillmeier's pioneering work in the field of the early history of Christology. Here the focus is on Christianity in Palestine and Syria (the Fertile Crescent) after the Council of Chalcedon and before the advent of Islam.
A consideration underlying the entire book is whether we can speak of a consistent Christology throughout the Christian East before Islam and to what extent theChristian East retained the biblical message of Jesus, despite the various divisions that occurred within its borders. Chapters have been collected, edited, and reworked by Theresia Hainthaler with additional contributions from Tanios Bou Mansour and Luise Abramowski. The first part of this volume examines Christology in Palestine from Chalcedon until Islam, including the theology of monks and ascetics, the School of Gaza, and liturgy.
The second part is devoted to the Christology in the patriarchate of Antioch from 451 to the end of the sixth century. In 1951 Alois Cardinal Grillmeier (1910-1998) first published Das Konzil von Chalcedon , a work focused on the pre-Chalcedon period and the events of the Council in 451.
The first chapter of this would become the first volume ofChrist in Christian Tradition .
The work appeared in English in 1965. In 1986 Volume 2/1 appeared with a foreword explaining the author's intention to provide a comprehensive study of Christology from the beginning up to c.800.
This was translated toEnglish in 1987. Three further volumes appeared: 2/2 (1989, translated 1995), 2/4 (1990, translated 1996) and the present volume, 2/3 (2002).
This volume completes the translation of the published volumes into English.
Editorial work continues on volume 2/5 which has yet to publish in German.
Free Home Delivery
on all orders
Pick up orders
from local bookshops
Also by Alois Grillmeier