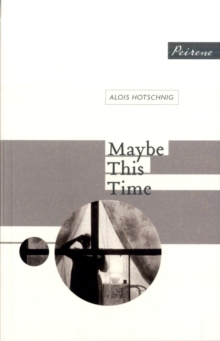 Maybe This Time
Paperback
Description
A spellbinding short story collection by one of Austria's most critically acclaimed authors.
A man becomes obsessed with observing his neighbours.
A large family gathers for Christmas only to wait for the one member who never turns up.
An old woman lures a man into her house where he finds dolls resembling himself as a boy.
Mesmerizing and haunting stories about loss of identity in the modern world. ------- Why Peirene chose to publish this book: 'I love Kafka and here we have a Kafkaesque sense of alienation - not to mention narrative experiments galore!
Outwardly normal events slip into drama before they tip into horror.
These oblique tales exert a fascinating hold over the reader.' Meike Ziervogel, Publisher
Information
Format: Paperback
Pages: 110 pages
Publisher: Peirene Press Ltd
Publication Date: 17/08/2011
ISBN: 9780956284051
Free Home Delivery
on all orders
Pick up orders
from local bookshops
Reviews
Showing 1 - 2 of 2 reviews.
Review by teresa1953
16/06/2015
This little book is a triumph. I have to confess to not being a lover of short stories, but this is in a different league altogether.Written by one of Austria's leading authors, Alois Hotschnig, it is veritable potpourri of unique observations of everyday life in frequently unsettling detail. Each story packs an emotional punch and, in many cases, presents a conundrum for the reader to decipher. In "The Same Silence, The Same Noise" a neighbour ponders the motive of the couple next door's continual presence on their jetty. Day after day they sit on their deckchairs by the lake side, regardless of the weather. Aside from raking the reeds, they do and say nothing at all. Why does a woman, living close to man's friend's house, entice him in to see her doll collection? Moreover, why does she caress a doll that resembles the man himself? That is question posed in "Then a Door Opens and Swings Shut". For me, the most accomplished story is "Morning, Noon and Night" which portrays a seemingly very ordinary day in any town, anywhere in the world. Yet,periodically, the author injects a line which is unsettling and out of keeping with the plot line. What has happened in that bustling street? What is the cause of the newly built wall and railings, not to mention the skid marks on the road? What has taken the character to the GP and why?Oh, and this little book is addictive. You will find yourself reading and rereading each story…….just in case you missed something the first time round! All nine stories are completely different and I defy anyone not to be hooked from the first page.Another triumph for Peirene Press who have an uncanny knack of selecting the cream of European literature's crop. This acclaimed Austrian author's work has been lovingly translated and this mesmerising collection of stories demands to be read and enjoyed.This book was sent to me by the publisher for an honest review.
Review by AndrewBlackman
16/06/2015
I found this a very unsettling collection of short stories. I mean that in a good way. Being unsettled is often the prelude to thinking about things in a new way, and to me that's one of the most important functions of literature.The stories are very varied in style and content, but many of them deal with the question of identity in one way or another. In the first story, The Same Silence, The Same Noise, a man becomes addicted to spying on his neighbours. Yet he does not really seem interested in the neighbours themselves, but in seeing himself through their eyes. He is obsessed with why they don't acknowledge him, and although it is he who is spying on them, he is the one who feels invaded by them, who tries to escape. His identity merges into theirs, and he realises that "in truth, it was myself I was now looking at."The final story, You Don't Know Them, They're Strangers, also deals with the merging of identities. A man comes home one night to a flat that has someone else's name on the door but that seems familiar still, and his neighbours and friends call him by that name, even though it's not his name and he doesn't know the people who call him a friend. He goes to work in a part of town he's never been to, again is recognised by his colleagues even though he doesn't know them, and does a normal day's work before returning home to find a different name on the door. The same neighbours who had known him the night before now introduce themselves as if for the first time.See what I mean by unsettling? There's a dreamlike quality to a lot of the stories, a weird kind of internal consistency that often doesn't conform to real-world logic but nevertheless feels natural within the slightly warped reality of each story. And through many of the stories runs this same thread of loss of identity. In another one, The Beginning of Something, a man washes his face and raises his arms to wipe it with a towel, but then realises "The arms weren't my arms." In perhaps the most unsettling one of all, Then a Door Opens and Swings Shut, a man is invited into an old woman's house, and although he doesn't know her, she treats him as a long-overdue guest. She has an enormous collection of dolls, which she calls "her children", and eventually she brings out one that looks exactly like the narrator and shares his name, Karl. She asks him, "Isn't that why you're here?" As he visits more regularly, he comes to identify more and more with the doll Karl, until:" Whether I liked it or not, I too had become one of the old woman's dolls, or perhaps I had always been one. She sat me on her lap, and I let it happen, because in exchange she gave me something I wanted and each time craved more deeply – myself."Apart from Karl, very few of the characters in the book are named. Many stories have a first-person narrator, and otherwise characters are referred to simply as "the woman", "the man", "the couple", etc. It all has a profoundly alienating effect, especially when coupled with the weird meldings of identity. I'd thoroughly recommend this book to anyone who's looking for something a little weird and disturbing and different. I'm planning to read more by the same writer, but can't find much in English translation so maybe will have to dust off my schoolboy German :-)