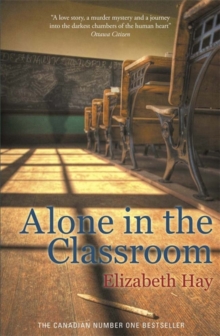 Alone in the Classroom
Hardback
Description
In a small prairie school in 1929, Connie Flood helps a backward student, Michael Graves, learn how to read.
Observing them and darkening their lives is the principal, Parley Burns, whose strange behaviour culminates in an attack so disturbing its repercussions continue to the present day.
Connie's niece, Anne, tells the story. Impelled by curiosity about her dynamic, adventurous aunt and her more conventional mother, she revisits Connie's past and her mother's broken childhood.
In the process she unravels the enigma of Parley Burns and the mysterious, and unrelated, deaths of two young girls.
Information
Format: Hardback
Pages: 288 pages
Publisher: Quercus Publishing
Publication Date: 30/08/2012
ISBN: 9780857051257
Free Home Delivery
on all orders
Pick up orders
from local bookshops
Reviews
Showing 1 - 1 of 1 reviews.
Review by TimBazzett
16/06/2015
It's not all that often anymore that I want, more than anything else, to start a review with "I LOVED this book!" or my other stock response, "Holy CRAP, this man/woman can write!" Well, consider both responses rendered for Elizabeth Hay's ALONE IN THE CLASSROOM. Because this is simply an outstandingly beautiful and profoundly satisfying book.A multi-generational story spanning most of the twentieth century, Hay's story of the Flood and Soper families contains none of the tedium or stock sensationalism that often characterizes so many of the so-called 'sweeping family sagas' that I usually run screaming from, but women seem to love - think Danielle Steele or Belva Plain, for example. Nope. Hay's people are real, believable, utterly human. The narrator is Anne Flood, but the heroine, at least for the first half or more of the book is her aunt, Connie Flood, a strong and independent character who Anne has admired her whole life. And there is a 'villain' in Ian 'Parley' Burns, who is certainly evil, but also tortured, thwarted and pathetic. There are strong admirable male characters too, in Sid Goodwin and Michael Graves. But they too have their all-too-human flaws, as does the narrator Anne.The story turns on a couple of violent crimes, separated by many years, and Parley Burns figures into both. Both Connie and Anne are intricately caught up in the histories of Burns and, later, the attractive and artistically talented dyslexic, Michael Graves. Connie, a schoolteacher turned journalist, and Anne, a schoolteacher and writer, form a strange triagle with Michael, a plot which forms the heart of the novel. But this is also a story about personal histories and confusing and tragic family relationships, particularly the ones between mothers and daughters. Here's a sample -"Connie indulged Michael the way mothers indulge their sons, so I've come to believe. The mothers can't help it. And the reverse is true. Daughters quicken a mother's critical faculties. None of this is deliberate or thought out - it's on the level of the physical. And so sons bask. And daughters fume. And women brood. And men move on. And yet they don't move on either."Hay is also expert in evoking a feeling one can remember from childhood, like this one about the importance of the Sunday funnies -"Newspapers of old smelled damp, inky, pungent. We would lie on the floor when we were kids, our noses inches above the paper, and devour the comic strips that were so glamorous in those days, the women and the men bewitching, all chiselled cheekbones and thick hair, full lips and swelling breasts. The damp wonder of sex and romance, and the excitement of the world out there awaiting us - it was all transmitted directly into our noses through newsprint and ink."YES, Elizabeth! I remember it too - sprawled on our living room floor checking out the latest installments of "Li'l Abner", "Rex Morgan, M.D.", "Terry and the Pirates", "Steve Canyon", and so many other now nearly forgotten comic strips. I dont' want to sound sexist, but ALONE IN THE CLASSROOM is a book only a woman could have written. Men, I think, simply lack the sensibility needed to write this way. The erotic tensions and undercurrents of fear and sexual vulnerability are almost palpable, yet as delicately nuanced as a Japanese watercolor. This is simply fine writing. I tried, nearly in vain, to think of anything else I've read that might compare to this book. The only one I could think of was, coincidentally, another Canadian novel, Anne-Marie MacDonald's THE WAY THE CROW FLIES, an enormous tome I enjoyed tremendously some years back. So yeah. Holy crap, even. I loved this book. My advice? READ it!