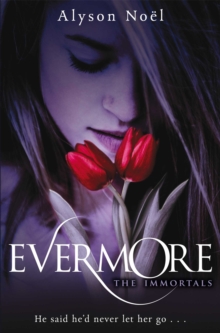 Description
Seventeen-year-old Ever is the sole survivor of a car crash that killed her entire family.
Living with her aunt in Southern California, she's plagued by the ability to hear the thoughts of those around her, and haunted by the ghost of her little sister.
She tries to tune everyone out, shunning her old lifestyle as the pretty, popular cheerleader, but somehow she can't hide from Damen, the new guy at school.
Stunningly handsome, clever and not a little bit intimidating, there's something about him that doesn't quite add up.
Ever realises he's hiding something, but nothing could prepare her for the truth - especially when the truth involves past lives, murderous enemies, everlasting love and the secret of eternal youth . . .
Information
Format: Paperback
Pages: 384 pages
Publisher: Pan Macmillan
Publication Date: 01/09/2009
Category: Fantasy
ISBN: 9780330512855
Free Home Delivery
on all orders
Pick up orders
from local bookshops
Reviews
Showing 1 - 5 of 14 reviews.
Previous | Next
Review by RachelFried
16/06/2015
This novel was more of a summer read, and it was what I expected of it. I enjoyed the leisure of reading it although it was very symbolic. The main character is a young woman named Ever, struggling with the loss of her family and dealing with the supernatural. She can see auras and as every color means something there are 12 symbols listed at the beginning of the book. Also, since the book was laid out easily, the themes were also easy to spot.Since Ever is dealing with grief and letting go of her sister, who still visits her as a ghost, the main theme has to do with her guilt. "The point is, it's nobody's fault. That's just the way it happened. That's just the way it was supposed to be." (284). This is said by Ever's sister Riley in the dramatic climax where Ever is painfully letting Riley leave and "cross the bridge". Riley is making Ever finally let go of her and causing her to realize that she can't blame herself for accidents since they are no one's fault. Later it is found that Drina spooked the deer that caused the car to crash but Ever still learns a valuable lesson.The second theme was deciding things for yourself and growing up. Ever has to make some tough choices in order to become the immortal girl she ends up as. She has to decide for herself what she wants in her life and even though she is only 16 she still learned how to be independent.Of all the color symbols, the most important were red and white. These were the colors of the flowers Ever's boyfriend, Damen, gave to her and her nemesis, Stacia. I thought it was interesting how Stacia was given white roses signifying the heart that knows no love or heart ignorant of love. Whereas, the aura color white meant perfect balance in an aura. It's just odd that Noel would make white mean this when the rose was meant to signify that Damen didn't think Stacia was worthy of love while white meant perfect balance. Stacia perhaps was in more of alignment than Ever was, in her grievous state, and it was Damen's way of saying that she needed to change. The other symbols made more sense; Ever was given the red tulip which meant undying love. At the same time, the aura color red meant a person was feeling energized, strong, angry, sexual, passionate, fearful, or egotistical.The other symbol was portrayed as a tattoo drawn around Ever's friend named Haven's wrist. A snake beginning to eat its own tail is a mythical creature called an ouroboros. It symbolizes eternal life, creation out of destruction, life out of death, and immortality. This symbol was also a foretelling of Drina and Damen's lives and how they were immortals. Drina was trying to subtly tell Ever to leave them alone, but because Ever didn't see the signs, she was mostly unprepared for what happened. As a reader, though, I guessed long before what Damen and Drina were, although I too thought vampires.The book was written in first person from Ever's point of view, and the setting was in Laguna Beach, California. I enjoyed the book, especially the feeling of suspense. It was hard to set down, enjoyably and surprisingly so. I believe I will read the next novel in the series, Blue Moon.
Review by ethel55
16/06/2015
Ever since a car accident killed Ever's family, she can see auras around people and hear way too many of their thoughts. She moves from Oregon to California to live with her aunt and starts a new highschool. Her first and only friends are a couple of other fringe kids. Ever fits right in as she covers herself in hoodies and her ipod earphones to dull the incessant noise in her head. Of course one day, a handsome and mysterious new student, Damen, arrives at school. He sits next to Ever in class and she notices the noise in her head subsides. Damen is obviously hiding some secrets of his own. I can understand the wide variety of views about this story, it comes off as very Twilight-y at times. But, I liked the story well enough to continue the series. Here's hoping there will be a little less Twilight and a little more Highlander in the next installment.
Review by katiedoll
16/06/2015
I'm a huge fan of paranormal/supernatural YA fiction, so this was a definite grab when I saw it. However, after the first few chapters, I regretted the choice of purchasing it rather than checking it out at the library.It disappointed me greatly. The writing in itself wasn't bad, but the plot and characters just bothered me to no end. There was no creativity, no surprises, nothing. After awhile, I recognized slight resemblances to the Twilight saga, and after picking up on it, it was something I couldn't ignore. As for the characters- they were just so typical and predictable. There was nothing special about them, asides from the unnecessary "aura reading" power that Ever held. Another thing that bothered me was how quickly Ever went from being angry at Damen, to lusting after him. Damen is described as the typical exotic, brooding gorgeous boy, and Ever is the tortured, damaged and depressed damsel in distress. Sound familiar? I wouldn't say it was horrible, because it wasn't. If you're a reader who doesn't dig too far into the writing, then this is perfect for you. But if you like to have some depth to your stories, I wouldn't recommend this at all.
Review by jennmainwaring
16/06/2015
While I enjoyed this book, I'm surprised that anyone could claim that the plot is "fresh and different."Like most reviews below me, I definitely got the Twilight vibe a couple chapters in. Except in reverse. Here, you have Ever struggling with her strange new powers and knowing what everyone else is thinking, completely unable to read Damen, which draws her in even more (as opposed to Edward being able to read everyone but Bella). There were some other similarities, as well, but they start disappearing more toward the end as the plot gets whackier. And yes, it gets very whacky. I wanted to scream because of the characters' names alone. Like, it's okay to have one or two characters with out-there names, but pretty much all of them were pretty odd and gave me pause every time I saw them.In addition, I think the book was kind of long. After Ever's fight with Drina, you think it's almost ever, but it just keeps going... and going... and I have to admit that the whole talking to her dead sister thing throughout the whole book was a little strange. I didn't enjoy any of those scenes.All that said, I couldn't put the book down. There was something that drew me in and made me want to keep reading. Maybe because it's pretty mindless and allows you to escape a crappy day, but I couldn't stop wanting to read more. I'm just not sure I have the strength to put up with the whackiness for an entire series.
Review by vanedow
16/06/2015
I liked this book almost against my will. There were a lot of things about it that annoyed me, and as I mention them in the review, you'll probably wonder why I gave it a 4-star rating. Just keep in mind that I DID ENJOY THIS BOOK. I was obsessed with this book while reading it. I carried it around with me constantly, just in case I could find a few seconds to squeeze in some reading. Ever and Damen's conflicted romance is exactly the kind of story that will keep you constantly involved.I couldn't decide for a while if I liked the characters. Ever herself had a lot of good points, but she was so busy wallowing in her grief that I had a hard time really clicking with her. This is an excellent example of my total lack of sympathy for whining in fictional characters, because you can bet that if I found myself in Ever's position, there would be lots of wallowing on my part, but in her it still bothered me. It also took me a long time to decide if Damen was a good guy or a bad guy. But once I got that figured out, I really like him. His tragic, epic story of love and loss appealed to my inner drama queen, I think.If you like paranormal romance, there's a solid chance that Evermore will be perfect for you. Other than the romance itself, the plot was a little weak, but I honestly didn't really mind. I guess I have a bit of a weakness for the "ill-fated, destiny-driven lovers" storyline, because it truly had me rapt from the first page. Noel has a gift for creating word pictures that draw you in without sounding like she's on a literary high-horse.I'm off to read Blue Moon.
Also in the The Immortals series | View all