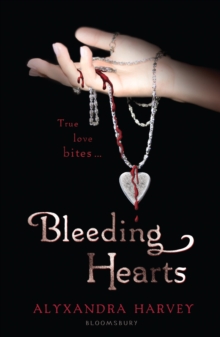 Bleeding Hearts
Paperback
Description
Lucy's cousin Christabel has come to live in Violet Hill, and adjusting to the difference between life in a small mountain town and her home in the city is difficult.
The strict curfew that Lucy's parents enforce is hard to respect.
Surely something really dangerous couldn't possibly happen in this tiny town. But Christabel starts to notice some mysterious happenings, and it seems like Lucy, her boyfriend Nicholas and his brother Connor are all in on a secret that Christabel doesn't understand - one that seems deadly serious.
Although she won't admit it, Christabel would love to be in on any secret with Connor Drake.
When Christabel is kidnapped by the ruthless Hel-Blar vampires, Lucy and Connor finally fill her in on all the undead drama.
Together, they must find a way to stamp out the Hel-Blar for good.
Information
Format: Paperback
Pages: 304 pages, Illustrations
Publisher: Bloomsbury Publishing PLC
Publication Date: 01/10/2011
Category: Fantasy
ISBN: 9781408814970
Free Home Delivery
on all orders
Pick up orders
from local bookshops
Reviews
Showing 1 - 2 of 2 reviews.
Review by Candacemom2two
16/06/2015
On the series as a whole, spoiler free for any of the books:After finishing this book I kind of had an urge to squeal a little bit. Maybe that was because Alyxandra Harvey left us with a cliffhanger! But it was also because I just love this series so much! I say this in every review of this series, but this is not a series I would have picked up on my own. If it wasn't for other book bloggers I never would have given them a try. But I am so glad I did!I love seeing the different perspectives and although they are each in first person their personalities are so distinctive that it's easy for me to know who's narrating (you know, if I somehow missed it at the beginning of the chapter where it says). Seeing all the different angles makes this series so good. You see the bad guys turned good, the good guys turned bad, the normal school girl who meets a vampire for the first time, etc. And the books all have constant action but they focus on two people mostly who end up falling for each other. So there's romance and kissing (no more than kissing) but there's just as much action and killing of bad guys. Love it!!The following contains spoilers for the previous books in the series:This book is about Connor and Christabel. But we got lots of Lucy as well. And that was awesome cause I missed that girl! We actually didn't get a ton of Connor which kind of surprised me. But he was there. The romance seemed a bit on the lighter side for this one, but that's probably cause there just wasn't much room for it there was so much action. I would say that maybe I would have liked more Connor and more romance but it wasn't a big deal, I loved the book the way it is. Some things are changing in this one. Lucy's parents are back and they now know about vampires (that's not a spoiler, it happens before the book actually starts) but Christabel does not. Lucy is training so she can defend herself and by the end of the book she's made some big decisions because things just aren't working out. Don't worry though, her Nicholas are just fine! Christabel is a great new character but for some reason I feel like I still don't know her real well. Maybe that's because so much of the story was Lucy's I feel like I just didn't get the chance, but what I saw I really liked. She's a big reader, so I obviously can relate to her that way, but she's been through a lot so she had some hidden strength inside her to deal with stuff when crap hits the fan.Okay, so I loved this book but Alyx, girl you are torturing us! There is a cliffhanger at the end of this one that will have you screaming. I want the next book NOW!
Review by wanderlustlover
16/06/2015
Christabel and Connor's book! This one, looking back, isn't as insanely memorable, not because our main character was boring, but because it was another look at a world we knew from the outside and not another corner inside it (which we know, sadly, is my very favorite). While it is like Lucy's in being an outsider's view, with Christabel we finally get the real outsider look. <br/><br/>Someone who hasn't been raised near this enough to have moxy and scream of having to handle it for her best friend and her sisters, but someone who is bright, shiny new. And in that, yes, there were some new ways of seeing things and handling things I hadn't expected. But of course I ended up loving it all so very, very, very much (even if they do pair people up like romance novels).