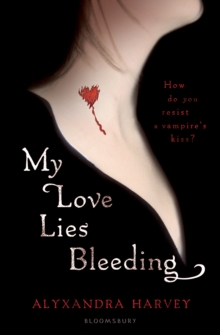 My Love Lies Bleeding
Paperback
Description
The Drakes are rather different to your usual neighbours.
They are vampires and some of the members of the family date back to the twelfth century.
One of the children, Solange, is the only born female vampire known and, as such, she poses a direct threat to the vampire queen.
Her best friend Lucy is human, and when Solange is kidnapped Lucy and Solange's brother, Nicholas, set out to save her.
Lucy soon discovers that she would like to be more than just friends with Nicholas.
But how does one go about dating a vampire? Meanwhile, Solange finds an unlikely ally in Kieran, a vampire slayer on the hunt for his father's killer ...
Information
Format: Paperback
Pages: 256 pages
Publisher: Bloomsbury Publishing PLC
Publication Date: 01/12/2009
Category: Fantasy
ISBN: 9781408803400
Free Home Delivery
on all orders
Pick up orders
from local bookshops
Reviews
Showing 1 - 5 of 7 reviews.
Previous | Next
Review by LarissaBookGirl
16/06/2015
Solange Drake is a vampire who was born, not made. She is not the first to be born a vampire, but she is the first female to be born. A lot of people are happy about this and a lot of people are not, such as Lady Natasha wouldbe Queen of the vampires.There is a prophecy that all the vampire clans will unite under the Queen-ship of a female born vampire. For this reason Solange's life has just become under threat by bounty hunters. However she is also being hunted by her own kind, they can sense she is about to change, become a full vampire which will take place when she turns sixteen. The change leaves her highly attractive to her own kind, as well as vulnerable and close to death.Lucy has been Solange's best friend for as long as either can remember. Lucy has also been fighting with Nicholas, Solange's brother, for just as long. But now things are changing. Lucy may just have discovered her feelings for NIcholas, but it is at a time that she may lose Solagne forever. Can a bounty hunter be trusted so save Solange when no one else can?My Love Lies Bleeding is a story of teen romance, with vampires thrown in for fun. There is a lot of emphases on family and friendship which is nice, but there is also a lot of inconsistencies and plot hole throughout this story. It is evident Alyxandra Harvey has a thing for romance, and any teen girl will instantly take a liking to this new series.
Review by wyvernfriend
16/06/2015
Solange is nearly 16, when she turns 16 she's going to become a full vampire. As the only female vampire ever born she's special. Lucy is her friend, from an unusual family, the two of them have grown up together and are best friends. Both are worried about the changes Solange's impending change will have on them. The other issue is Solange's brother Nicholas and his growing interest in Lucy. Add in some feral vampires, vampire hunters and a fast-paced plot and it's quite a good read.I enjoyed the read, there were parts that were somewhat disappointing but overall I liked how the author spun the Vampire issue. Lucy is a great character and I want to read more about her.
Review by idroskicinia
16/06/2015
This is the review for the first book of the Drake Chronicles Series: My love lies bleeding by Alyxandra Harvey.Before I started reading this book, I had heard many great comments from the series. I don't know if I was expecting too much, or if the story gets better in the next books, but I was a little bit disappointed. Here are the most important facts I found.1.The story is told by two young girls, Lucy and Solange. Although the author tried to make them completely different, it was difficult to me imagine them as two characters instead of one.2.Is a typical vampire story, in which we find large amounts of mythology, and history of these vampires and how they become what they are (in the book). This can be a little bit boring. And complicated.3.Two main characters, and we find two romances. The first was the one I liked the most, and it was loose, and without any emotion. The second one was more than obvious, and I didn't see any development.4.A lot of characters. So many that I could hardly recognize them all.5.The plot reminded me of Vampire Academy by Richelle Mead. Two friends, one is in danger, the other is strong and courageous ... almost the same thing.What I liked:1.Nicholas.CONCLUSION: Like I said before, I was waiting more of this book. I found the story weak and without any emotion. Another vampire story.TWO Stars: It was OK.
Review by wanderlustlover
16/06/2015
So very hard I want to give this one 3.5. It would get a 4 or 5 if it was being rated in just all the YA literature I've been reading lately, but it doesn't stack up entirely next to the huge heavy hitters of main genres...and yet I loved this book so much. So so so much, especially in comparison to Ever and Elle's stories just finished. <br/><br/>This is a vampire story, and it's set up in such a brand new, unique way it could help being drawn in. Wanting to know more about the set up of the universe, the different breeds and the politics of their interaction, how things changed over time. Solange and Lucy as our two narrators and their widely different ways of viewing the world were lovely. <br/><br/>I read this in a day and couldn't wait to start the next one.
Review by JustAnotherYABlog
16/06/2015
4.5 stars <br/>New plot?:No <br/>It wasnt a new plot although re-written in an wonderful way,it tells us about frienship of two girls one to be a vampire and another one a human: Solange Drake and Lucy.Solange is the only born female vampire in Drakes' Household and is subjected to a prophecy which tells that she is to rule the vampires and so threatenes the current queen and is overprotected by her gentle father badass mother and seven brothers she hunted by vampires and desired by them too.Her bestfriend on the other hand is hot headed and big-mouthed though she is sweet,loyal and quite a badass herself,Lucy Hamlinton she is treated like a family by Drakes though she is a human she doesnt particularly go well with Nicholas Drake Solange's hot brother though later they develope romantic relationship.Now Solange gets kidnapped and its upon Lucy to find her. Solange is in mortal danger and is turning into a vampire by bloodchange which is a diffcult process and no one is guaranteed to survive.Would Lucy be able to save her before the time runs out?<br/>.<br/>Although it looks like a filmy plot it is not it is actually a wonderful book and i enjoyed it very much<br/>
Also in the The Drake Chronicles series