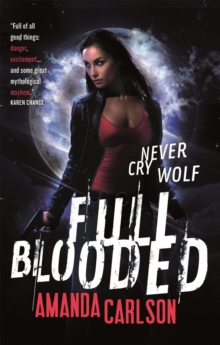 Description
Born the only female in an all-male werewolf race, Jessica McClain isn't just different - she's feared. After living under the radar for the last twenty-six years, Jessica is thrust unexpectedly into her first change, a full ten years late.
She wakes up and finds she's in the middle of a storm.
Now that she's become the only female full-blooded werewolf in town, the supernatural world is already clamouring to take a bite out of her.
Now her new Pack must rise up and protect her. But not everyone is on board. There are certain superstitious werewolves who think Jessica means an end to their race - and they're not about to go down without a fight.
Information
Format: Paperback
Pages: 368 pages
Publisher: Little, Brown Book Group
Publication Date: 01/09/2012
Category: Fantasy
ISBN: 9780356501260
Free Home Delivery
on all orders
Pick up orders
from local bookshops
Reviews
Showing 1 - 5 of 5 reviews.
Review by UFReviews
16/06/2015
I was fortunate enough to be able to read the novella before it came out and reviewed it (seriously check it out). I have read a lot of novellas that a written for book series and now that I have read this book, book 1 in the series, I can honestly say this is the best companion novella I have read. I think reading the novella gives you such amazing insight into the character of Jessica, that when you start reading Full Blooded you will already love her and in some ways understand her.So now that I have talked up the novella I should probably fill you in on the book. Full Blooded is a great first book in the series. It opens up a lot of characters in Jessica's world in just this amazing way. But first an formost I think we should touch on the concept of werewolves in this book. All the werewolves are male (which you could get from reading the synopsis), but it's a really interesting dynamic that this creates. You have a bunch of really superstitious, super strong, battling for power males who suddenly have this female among them. And what do they do to this female? Do they revere her? No, they treat her like she is less than nothing, and worse that she will be the downfall of them all. That's not to say she doesn't have allies, and she has some really good allies that end up being really great characters to watch evolve. But overall without even touching on the story of the book I love the concept. I like that Carlson was able to take a race, werewolves, and toy with all your preconceived notions of what a werewolf is suppose to be, and then make it something cool and unique. I love when an author is able to take an idea that I have in my head and surprise me.The book starts off right in the thick of it, Jessica is in the middle of her first change and oh lord does it not go well. This change, well it changes everything about her life. And not just her life but the life of the pack she left behind, that she thought she would never be a part of. You find out more and more about Jessica's DNA and what her being a werewolf means as the story goes on, and I won't ruin it for you because Carlson does a great job giving you just enough information to leave you wanting more. But this changes everything for just about everyone.Carlson also does a pretty awesome job crafting the other characters. Jessica's dad is really everything you would want in a dad. He's a great alpha and he does everything he can to protect his pack, but at the same time he is in this terrible situation where the pack sees his daughter as a problem. But the great thing about him, is that throughout the book I never once doubted his love for his daughter. She has other people who love and care about her just as much. I love her brother for one, and their bond only grows throughout the book. And of course there is of course her childhood friend, fellow "different shifter", and business partner who sticks by her side no matter what.As for the romance in this book, there is definitely some hot and heavy action within the book. I am so tempted to give you some information about the hot and heavy but I really don't want to ruin it for you. I was a little bit surprised by the events, so I think it would be better for you to experience the ride through the book.And as for the ending, well it has a pretty awesome ending. It leaves a lot open for the next book, and it makes you really want to know what is going to happen next. I really enjoyed this book, it was one of those books that I didn't want to put down and I seriously enjoyed every word of it. I liked the writing style of Carlson, and her ability to write not only the world building and characters in a fantastic way but she also writes action really well too. I would recommend this book to anyone who like a "were" book but I would recommend this book to anyone who liked Urban Fantasy at all. It's a great ride.
Review by Phantasma
16/06/2015
I really enjoyed the hell out of this book. It's just what I like in my urban fantasy: a little light, a little dark and all sorts of fun. The world Carlson has built is an interesting take on the genre and the main character is fun and feels real. Even though a major plot point revolves around a relationship, it wasn't sappy and googly-eyed at all.If you want a quick, fun, read and you like urban fantasy, this would be a good one to pick up. Sometimes I'm reluctant to recommend many of the paranormal books I read to men, but I actually think this one "works" across the stereotypical gender lines. Give it a shot, you've got nothing to lose and you might gain a new, fun favorite in the process!
Review by AmberFIB
16/06/2015
Wow. Just wow. Full Blooded blew me away! I had high hopes for this book, and it did not disappoint. Carlson delivers a unique twist on werewolf lore with this novel, and I could not get enough! This book has it all: nonstop suspense and action, steamy romance, a likable narrator/heroine, and complex characters. I have been looking for a series to replace Kelley Armstrong's the Otherworld series since it ended, and I think I've found my match! This is one book that fans of the paranormal cannot miss. Jessica is a strong and intelligent leading lady. She reminds me vaguely of Elena Michaels from Armstrong's series (the independence and strength), but at the same time, she is her own character. She is fiercely loyal and loves her family more than anything. She wants to fight, and sometimes she is stubborn and doesn't have the best ideas, but she's no idiot. She knows what she's doing, and she makes things work for her. Jessica, like Elena, wants to live a normal life, and that's where the similarities end. Jessica wasn't changed against her will. She was born a werewolf, but they thought she'd never change. She grew up at the Compound with other werewolves, and many of them hated her because she was different. The book begins with the intense scene of Jessica's first change. Speaking of her change, Carlson introduces Jessica's wolf to us early on as well. The wolf lives inside of Jessica and seems to be its own entity. It communicates with Jessica, though it is a lot more animalistic than Jessica's human side is. The wolf acts on instinct alone, and watching Jessica learn to balance her two sides is entertaining to say the least. I really loved the wolf. She adds a lot to this story. The male characters are all interesting in their own ways. Each character is complex and has his own personality. There are many different types of shifters, but since Jessica is in a male dominated world, most of the characters are male rather than female. That doesn't mean Jessica is a skank, it just means that there are lots of men in her life. I enjoyed getting to know a little bit about each man Jessica knew, and I can't wait to learn even more about them. None of the characters were flat. Even the secondary characters stood out as unique and intriguing. The plot is intense and action-packed. I could not put this book down! Poor Jessica can't catch a break. It seems like everyone wants her dead. She doesn't fall apart, though. She holds it together and does what she has to do. As for who the bad guys are, Carlson kept me guessing. There are so many people sticking their noses in Jessica's business, that I couldn't figure out who to trust and who not to. Along with the mystery, there are tons of fight scenes and a few steamy romance scenes as well. This book isn't heavy on the sex or romance, but there are some hot scenes for the romance lovers. The ending ties up a few plot lines from this book (the main ones) and opens up some new ones for the sequel, which I can't wait for. Fans of Kelley Armstrong, Chloe Neill, and Patricia Briggs will love this series. If you haven't tried any of those authors and you're curious about this book, give it a try. You won't be sorry!
Review by Cats57
16/06/2015
Full Blooded by Amanda CarlsonThis could have been exceptional series opener. ( It helps if you read "Blooded" a novella first, Full Blooded takes place 8 years after the novella.) Mind you I said could have. It has all the elements of something just a little different, just a little fresh in an over-burdened genre until you get about halfway through and you realize that the newness only goes so far. You realize that it is becoming trite and clichéd. However, there are reasons that plots become trite and clichéd – it is because they are popular and enjoyable plots, and I really enjoyed this book up until the last 25 percent or so.For some reason seeing the big, bad, powerful, only female werewolf in the world having what amounts to a teenaged b**ch fight with a Goddess/Sorceress just kind of shot down the illusions for me and turned this into something for the young adult crowd. What comes after that is even worse, but I don't want to spoil it for anyone who is interested in this book. Suffice it to say that trite and clichéd really had a field day with the ending of this book.
Review by shewolfreads
16/06/2015
What is it about werewolf stories I love so much? When I finished Full Blooded by Amanda Carlson, I knew the answer: I love pack dynamics and mythologies. From Mercy Thompson's world and, now, to Jessica McClain's, when I turn the last page and close the book, I always want to join the pack. Carlson knows how to give an action packed opening. Full Blooded starts with Jessica McClain, only daughter of the alpha of the U.S. Northern Territories, at the start of her first change, a change that was never supposed to happen. And this is where I really loved Full Blooded – the werewolf mythology and world. Carlson creates something unique with the idea of a world in which female werewolves don't exist. Instead, there is the Cain Myth, the superstitious belief that a female werewolf will come along and be the downfall of the entire race. Now, with Jessica's change, she is the embodiment of what the werewolf world fears most. I love this set up. It puts Jessica at the center of an overwhelming conflict between those who want her dead and those who will do anything to protect her. It provides the perfect backdrop for a heroine to come into her own with plenty of potential for discovery and action.It's raining men in Full Blooded - her hothead brother Tyler, his flirty friend Danny, James, her father's second in command, and Nick, her werefox best friend. And then there is Rourke. Oh boy. Great chemistry between Jessica and Rourke. Sexy times. But what the heck is he? I loved that he's such a badass who can make the wolves sweat yet no one really knows what he is. It's a mystery that has the potential to play out over the course of the series but I want answers now! Don't even get me started on the vampires. They were definitely interesting, frightening, and they didn't sparkle. Full Blooded is an action-packed introduction to an original supernatural world. Carlton has created a new spin on the werewolf mythology and a new heroine who has to navigate this world carefully. Jessica is just coming into her own and I think we'll all be surprised at her potential and power. Kudos to Amanda Carlton for a refreshing and engaging debut.
Also in the Jessica McClain series