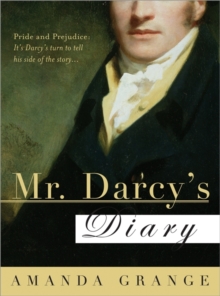 Mr Darcy's Diary
Paperback
Information
Format: Paperback
Pages: 320 pages
Publisher: Sourcebooks, Inc
Publication Date: 01/03/2007
Category: Historical fiction
ISBN: 9781402208768
Free Home Delivery
on all orders
Pick up orders
from local bookshops
Reviews
Showing 1 - 5 of 23 reviews.
Previous | Next
Review by library_girl27
16/06/2015
A retelling of 'Pride & Prejudice' through Mr. Darcy's diary. Though I thought the beginning was slow, it set the rest of the story up well. Because the plot is so familiar, it's a really quick read. Overall, I liked it a lot.
Review by ekelly27
16/06/2015
Pride and prejudice is my favorite book of all time, so I was a little apprehensive about reading a book written about it. But it met and exceeded my expectations.
Review by wktarin
16/06/2015
Interesting and humorous - but hardly scintillating.
Review by noneofthis
16/06/2015
My dear readers,It is with grave misfortune that I dissuade you from whatever excitement you may have upon learning of the existence of this novel. Jane Austen, the wonderful authoress that she is, has created such a wealth of characters and a story so beloved that more modern writers cannot help but continue to revisit the story and attempt to put a new stamp on things, but to no avail.<i>Mr. Darcy's Diary</i> is a straight retelling of <i>Pride and Prejudice</i>, even directly quoting the original during key points in the plot. Grange has done a very admirable job of spinning the story from Darcy's point of view, but she hasn't been able to do it in an interesting or original way. Her efforts to recreate Darcy's formal and reserved personality within this diary-as-a-novel format have resulted in a very bland and wooden book where every twist of the story is predictable. Please take my assurance that it would be much more entertaining to reread Austen's original yet again.In short, Grange's rendition of Mr. Darcy's side of <i>Pride and Prejudice</i> never enflamed my passions. And for all its formality in tone, the book is so familiar that it can only cause a brief entertainment. I'd recommend this book only to particular friends of the original story.Kindest regards,An Opinionated Lady
Review by Cariola
16/06/2015
I've read some very good spin-offs, sequels, and prequels to Pride and Prejudice, but, unfortunately, this isn't one of them. If you've read Austen's original and have seen any of the film versions, you'll find nothing new here. Grange adds no new insights into either Darcy's character or the backstory. "His" diary entries are merely restatements of what happens and what is said in the Austen original, fleshed out by a few emotions made obvious by Colin Firth, Matthew McFayden, and others on screen.