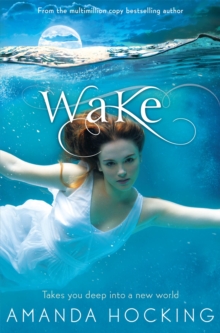 Description
The first in the thrilling Watersong series, Wake is a dramatic story of family, love and the devastating power of the sea, by the bestselling author of the Trylle trilogy, Amanda Hocking.Beautiful.
Fearless. Dangerous. They're the kind of girls you envy; the kind of girls you want to hate.
Strangers in town for the summer, Penn, Thea, and Lexi have caught everyone's attention, including the eye of practical Harper.
But it's her sister, Gemma, they've chosen to be part of their group.
Sixteen-year-old Gemma seems to have it all - carefree, pretty, and falling in love with the boy next door.
But her greatest passion has always been the water. She craves late night swims under the stars, where she can be alone yet belong to the sea.
Lately she's had company. Penn, Thea, and Lexi spend their nights dancing, singing, and partying on the cove - and one night Gemma joins them.
When she wakes up groggy on the beach the next morning, she knows something has changed.
Suddenly Gemma is stronger, faster, and more beautiful than ever.
As she uncovers the truth about her new mythical powers, Gemma is forced to choose between staying with those she loves or entering a dark world brimming with unimaginable secrets.
Information
Format: Paperback
Pages: 320 pages
Publisher: Pan Macmillan
Publication Date: 01/08/2012
Category: Fantasy
ISBN: 9781447205722
Free Home Delivery
on all orders
Pick up orders
from local bookshops
Reviews
Showing 1 - 2 of 2 reviews.
Review by wyvernfriend
16/06/2015
An interesting and different slant on shapeshifters. Gemma is a dedicated swimmer, swimming is her main pursuit and she has a chance at becoming a professional swimmer and entering the olympics. She loves swimming at night, in the sea, all alone, but three strange women have joined her. Penn, Thea and Lexi, they're attractive but neither Gemma or her sister Harper trust them. When Gemma joins Penn, Thea and Lexi partying she wakes the next morning feeling terrible, what have the three women done to her. Her life will change forever.I liked this one, the three women are a different sort of shapeshifter, interesting and complex and the choices Gemma makes are the hard ones. This could be a very good series.
Review by elliepotten
16/06/2015
This is the first book in Hocking's <i>Watersong</i> series, and it's mostly about a girl called Gemma. She's a brilliant swimmer and local beauty (the natural lovely kind, not a primped and preened prima donna) who loves nothing more than taking off for nighttime swims in the bay, marvelling at the stars and basking in the ocean waves. Of late she has found her moonlit peace disturbed by the town's newest residents: three hypnotically stunning young women who take to the deserted beach at night to sing and dance by firelight. Found dishevelled and alone on the sand one morning, Gemma knows only that she was invited to join Penn, Lexie and Thea on the beach the previous night, and something is now different. Who are the girls? How will all this affect her growing relationship with the boy next door? Meanwhile, her older sister Harper is battling a local beach bum while trying to keep one eye on Gemma's safety, and the community is rocked as several local boys disappear without a trace... As you may have guessed by now, this is a novel about sirens, which is one of the things that attracted me to it in the first place. I really enjoyed the siren mythology, explained to Gemma by the girls during another night by the fire on the beach, and the way the less savoury elements of their story are gradually revealed, much to Gemma's horror. The siren plot made a nice change from the usual 'paranormal trinity' of vampires, angels and shifters! The characters aren't massively fleshed out - the focus is more on the plot and mythology, at least in this first book - but I very much liked Daniel, Harper's dockside nemesis, who lives on his boat and delights in teasing her at every opportunity. The relationship between Harper and Gemma was quite realistic, and convincing enough to have me welling up at least once as Harper blindly fought to help her sister. I found the description quite repetitive at times (it's very obvious that something's amiss from the first appearance of the sirens) but seeing the various elements of their mythology coming together kept me turning the pages. After some of the recent novels I've read, one thing I DID appreciate was the fact that it was refreshingly typo-free, although I did spot a stray 'who's' instead of 'whose' at one point, which is a silly mistake. All in all it was a good fluffy YA read, perfect for summer reading at the beach or by the pool. It felt right to be reading it on holiday, by water, stopping for the occasional dip every now and again! The end of the novel paved the way nicely for the (presumably more brutal) books to come, and since I got home I've already bought the three remaining <i>Watersong</i> novels: <i>Lullaby</i>, <i>Tidal</i> and <i>Elegy</i>. I want to delve deeper into the sirens' mythological history, find out what's next for Gemma, and see how Harper fares trying to rescue her sister from the sirens' clutches...