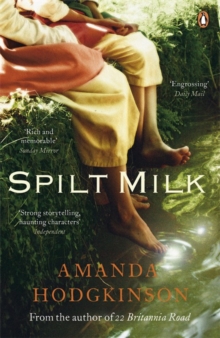 Description
The new novel from the author of 22 Britannia Road, Amanda Hodgkinson. 'Hogkinson's second novel is simply but elegantly written, its subtle charms emerging as her gentle, bittersweet story shows history repeating itself over the generations' Sunday Times 1913.
Unmarried sisters Nellie and Vivian Marsh live an impoverished existence in a tiny cottage on the banks of the Little River in Suffolk.
Their life is quiet and predictable, until a sudden flood throws up a strange fish on their doorstep and a travelling man who will change them forever. 1939. Eighteen-year-old Birdie Farr is working as a barmaid in the family pub in London.
When she realises she is pregnant she turns to her mother Nellie, who asks her sister to arrange an adoption for Birdie's new born daughter.
But as the years pass Birdie discovers she cannot escape the Marsh sisters' shadowy past - and her own troubling obsession with finding her lost daughter will have deep consequences for all of them ...'This is a story that explores motherhood and sisterhood with great subtlety and power ...with its strong storytelling, haunting characters and beautiful, supple prose, Hodgkinson's fiction deserves a wider audience' Independent on Sunday 'Spilt Milk is a refracted version of real life, that impossible mess we inherit and muddle through, yet transmuted here into something shining and meaningful, told in beautiful prose' Financial Times 'A potent, moving story of mother and sisterhood' Sainsbury's Magazine 'A tale of sisterhood, lies and illegitimate babies' Good Housekeeping Amanda Hodgkinson was born in Burnham-on-Sea in Somerset and grew up in Essex and Suffolk. She currently lives in south-west France with her husband and two daughters.
Her first novel, 22 Britannia Road, is available in Penguin.
Information
Format: Paperback
Pages: 304 pages
Publisher: Penguin Books Ltd
Publication Date: 06/02/2014
ISBN: 9781905490714
Free Home Delivery
on all orders
Pick up orders
from local bookshops
Reviews
Showing 1 - 1 of 1 reviews.
Review by AdonisGuilfoyle
16/06/2015
Another example of how easily persuaded I am by book recs - this one from a Sunday newspaper. I liked the fairytale aspect of the opening chapters more than the standard 'family saga' the story became, but the whole novel was easy and enjoyable to read. Two sisters, raised in a dilapidated East Anglia farmhouse, grow up and apart to lead very different, but equally troubled, lives, spanning the First and Second World Wars and into the 1960s. The 'spilt milk' of the title refers to the actions and decisions they make along the way.Some of the genealogical twists and turns are a little far fetched - it's the mother and baby swap shop! - but Nellie and Vivian both carry that eccentric earth mother quality with them from the start, so going with the flow is easier than when reading, say, Catherine Cookson. The passing eras, from Edwardian to Swinging Sixties, are interchangeable, bar references to the war and other key events, adding to the romantic quality of the narrative. I was a bit muddled throughout, actually, with the sisters and their families and whether the author was trying to be Margaret Atwood or Carol Birch, but not enough to lose interest. Poignant and endlessly nostalgic.