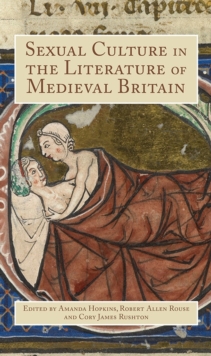 Sexual Culture in the Literature of Medieval Britain
Hardback
Description
It is often said that the past is a foreign country where they do things differently, and perhaps no type of "doing" is more fascinating than sexual desires and behaviours.
Our modern view of medieval sexuality is characterised by a polarising dichotomy between the swooning love-struck knights and ladies of romance on one hand, and the darkly imagined and misogyny of an unenlightened "medieval" sexuality on the other.
British medieval sexual culture also exhibits such dualities through the influential paradigms of sinner or saint, virgin or whore, and protector or defiler of women.
However, such sexual identities are rarely coherent or stable, and it is in the grey areas, the interstices between normative modes of sexuality, that we find the most compelling instances of erotic frisson and sexual expression. This collection of essays brings together a wide-ranging discussion of the sexual possibilities and fantasies of medieval Britain as they manifest themselves in the literature of the period.
Taking as their matter texts and authors as diverse as Chaucer, Gower, Dunbar, Malory, alchemical treatises, and romances, the contributions reveal a surprising variety of attitudes, strategies and sexual subject positions. Amanda Hopkins teaches in English and French at the University of Warwick; Robert Allen Rouse is Associate Professor of English at the University of British Columbia, Vancouver, British Columbia, Canada; Cory James Rushton is Associate Professor of English at St Francis Xavier University in Nova Scotia, Canada. Contributors: Aisling Byrne, Anna Caughey, Kristina Hildebrand, Amy S.
Kaufman, Yvette Kisor, Megan G. Leitch, Cynthea Masson, Hannah Priest, Samantha J. Rayner, Robert Allen Rouse, Cory James Rushton, Amy N.
Vines
Information
Format: Hardback
Pages: 192 pages
Publisher: Boydell & Brewer Ltd
Publication Date: 21/08/2014
ISBN: 9781843843795
Other Formats
Paperback / softback from £19.99
Free Home Delivery
on all orders
Pick up orders
from local bookshops