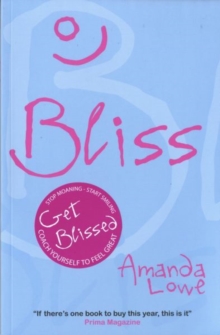 Bliss : Coach Yourself to Feel Great
Paperback / softback
Description
At last! A direct, funny, engaging and colourful book on a subject that is dear to all our hearts.
This book gives many insights into ways of achieving bliss and is written in a down-to-earth, pragmatic, conversational style.
Life isn't about how far you can go, how high you can jump and how much money you can earn.
It is about recognising those feelings of bliss that happen to real people in the real world every day and using those feelings to bring bliss into every part of your life.
If you've ever felt let down by a self-help book, or couldn't live up to the rigours of a personal development course, this is the book for you.
Bliss might not change your life, make you popular with the opposite sex or promise you unlimited success but it will make you laugh, make you think and open you up to experience bliss whenever and however you want.
Information
Format: Paperback / softback
Pages: 272 pages
Publisher: Crown House Publishing
Publication Date: 25/05/2004
Category: Popular psychology
ISBN: 9781904424185