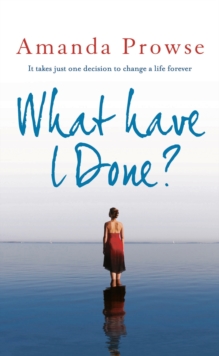 What Have I Done?
Hardback
Description
Kathryn Brooker is the headmaster's wife. While her husband spends his days disciplining unruly teenagers in the grand halls of Mountbriers Academy, Kathryn spends hers baking scones for her son's cricket match in a beautiful cottage in the manicured school grounds.
In the evenings, when her husband strides home to compliment her cooking and kiss her hello - ignoring jokes from their children about grown-up lovebirds - Kathryn Brooker is the very picture of a fulfilled wife and mother.
Anyone who peered through the downstairs sash window at the four figures sat easily around their scrubbed-pine kitchen table would see a happy family without a care in the world.
They would envy Kathryn her perfect life. But they would be wrong. Kathryn is trapped in a nightmare. And she is about to do something to change it. Something only a truly desperate woman would do...
Information
Format: Hardback
Pages: 336 pages
Publisher: Head of Zeus
Publication Date: 01/02/2013
ISBN: 9781781853788
Other Formats
Paperback from £6.35
EPUB from £3.74
Free Home Delivery
on all orders
Pick up orders
from local bookshops
Reviews
Showing 1 - 1 of 1 reviews.
Review by pdbkwm
16/06/2015
What Have I Done? is one of the most frustrating novels I've ever read. That doesn't mean it's the worse, because there a plenty worse, but it does make this review a bit complicated.<br/><br/>The first chapter of this book starts off well enough; Kate (Kathryn Brooker) just killed her husband and called the cops on herself. From here on out, we learn of the abuse she endured throughout the years and her struggles in and out of prison as a result of her actions. Due to this, the chapters switch from before the killing aka 10 years ago, to after the killing.<br/><br/>Everything before the killing was well written. I gobbled up those pages and really felt for Kate who wasn't only emotionally and physically abused, but also had her kids manipulated into thinking she was nothing. I'm not a mother, but to see your kids acting like that would hurt no matter what. Her kids walked all over her and her husband enjoyed this. Anything to make her look low to everyone was a source of enjoyment to him. It was sick.<br/><br/>Sadly, everything that happened after the killing is feels so clichéd and out of place. Not only that, but it felt like the writing went downhill either, which is a shame because I did want to see how Kate succeeded in her new life. It wouldn't be easy, but anything would be better than the life she lived with her husband. Except, the dialogue and the flat one note characters really took its toll on me. <br/><br/>Was this a good book, not really, but whenever I think of it I have strong emotions towards it. Not emotions of hate, but emotions...I can't really explain it, but this book still makes me remember it, which is usually hard to do.<br/><br/>Why?<br/><br/>It's because the kids in this book are ridiculous. I get that they were manipulated by their father to think little of their mother, but to go to the extent to write her a letter (while she was in prison) and say, "It would have been easier for me if both of you died." Makes me want to find this character, hunt them down and send them to Africa to run with the lions. The other kid is no better; every time Kate tries to connect with him he shuts her out. When she decides to give him space he comes barging in and tells her that she's a horrible mother than abandoned him. <br/><br/>Such self centered kids that turned into such horrible adults really makes me want to slap someone. It's almost like they expected their mom to continue suffering through the abuse because as long as they were not touched, everything was fine. I would have understood their feelings if this was recent, but the book spans ten years and there's still no change. <br/><br/>For that reason, this book makes me remember it. I did enjoy the chapters that happened ten years in the past and the ending was fitting, but I still can't forgive the shoddy dialogue and clichéd nature of this.<br/><br/>What happened to Kate was horrible, how no one noticed I'm not sure especially considering the amount of blood loss that would have occurred, but I'm able to suspend my belief here because this sort of thing has been happening for a long time and she probably got use to hiding everything.<br/><br/>What happens after she kills her husband, it's just not believable. I get that the author is trying to make Kate seem amazing now that she's free, but it got to be a little too much. I wanted to see some things expanded more, but it sadly wasn't. <br/><br/>Such a disappointment this book was.
Also in the No Greater Love series | View all