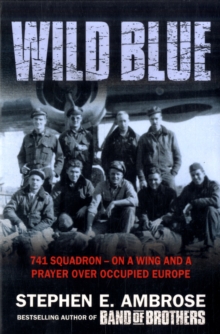 Wild Blue : 741 Squadron: On A Wing And A Prayer Over Occupied Europe
Paperback
Description
In the bestselling BAND OF BROTHERS, Stephen E. Ambrose portrayed in vivid detail the experiences of soldiers who fought on the bloody battlegrounds of World War II.
THE WILD BLUE brings to life another extraordinary band of brothers - the men who volunteered to join the American Air Force and undertook some of the most demanding and dangerous jobs in the war.
Focusing on the men of the 741st Bomb Squadron and, in particular, the crew of the DAKOTA QUEEN, these are the boys turned pilots, bombardiers, navigators and gunners of the B24s, who suffered 50 per cent casualties during conflict.
With his extraordinary talent for bringing alive the action and tension of combat, Ambrose sweeps us along in the B24s as their crews fought to the death to reach their targets and destroy the German war machine.
Information
Format: Paperback
Pages: 304 pages
Publisher: Simon & Schuster
Publication Date: 07/05/2002
Category: European history
ISBN: 9780743450621
Free Home Delivery
on all orders
Pick up orders
from local bookshops
Reviews
Showing 1 - 2 of 2 reviews.
Review by Choccy
16/06/2015
This is the second Ambrose's book I've read since Band of Brothers. It tells about the experiences of B-24 bomber crews in World War II; 741st Squadron, 455th Bomb Group, 15th Air Force, to be exact. The stories are from the beginning, i.e. the crews' background, their vigorous training (the high requirements resulted in many "washouts"), the first mission, until when the war's over.Thus, it's quite an extensive piece that offers lots of interesting details. If you love aircrafts (and aerial warfare), you'll consider this book as a classic.Ambrose fulfilled my expectation as a war historian, the story just flows with such a flair that makes you feel like want to be in that plane. B-24, or Liberator, is one of the five bombers utilized by the US Army during the war. It requires nine crew members: pilot, co-pilot, navigator/bombardier, flight engineer, radio operator, gunners (nose, waist, tail and ball turret). One can only imagine how heavy and cramped that bomber was. Over 18,000 B-24s were built, more than any other US planes. But they destroyed German refineries, marshalling yards, factories, air fields, thus destroying German's ability to make war.The first impression I've got after finishing this book is that the airmen in World War II suffered less than the infantry soldiers. Yes, the plane is too cramped, they faced those devastating flaks, penetrating cold in 20,000 feet height, but still, they got to sleep in tents with real beds, not in foxholes, helplessly waiting for enemy's shells and mortars to blast them to oblivion. The Army Air Force also applied a not-so-strict segregation between officers and enlisted men, as well as behaviors. No chickenshits (army term for jack-ass officers) in combats either; a different case with the infantry. Last but not least, as bomber crews they did not have to see the faces of enemy and civilians they killed.My favorite part of the book is the chapter telling about the P-51 (Mustang) fighter pilots from the 99th Fighter Squadron, or known as the Tuskegee Airmen. They were African Americans. The US Army in World War II still practiced discrimination, but those pilots did not discriminate, as admitted by the bomber crews. The P-51 pilots are honored for their bravery, discipline and dedication in their main role to protect the bombers.One must not forget that airplane is the most destructive tool in this war. Not only hundreds of thousands people (including civilians) were killed, but hundreds of historical buildings, residences, infrastructures were destroyed. However, one must not also forget that aerial warfare saved the Western civilization. We can only hope that the currently-used smart bombs can improve their accuracy.
Review by lamour
16/06/2015
There are many books about flying B-17's over Europe but fewer about what it was like to fly the B-24. Here Ambrose has gathered many stories from the men who flew them from airfields in Italy to targets over Eastern Europe concentrating on the crew of George McGovern, the 1972 Presidential candidate. As well Ambrose takes us through the adventures experienced during training in the US. There is much humour but also a great deal of terror. He also describes the bomber with all its flaws and does compare it to its more famous rival, the B-17. More B-24's were built than any other US bomber and they could carry a bigger payload farther as well.