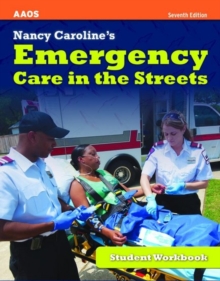 Nancy Caroline's Emergency Care In The Streets, Student Workbook
Paperback / softback
Description
Dr. Caroline trained her paramedics to be well-rounded, compassionate, quick-thinking problem solvers.
This workbook will help students become great paramedics!Critical thinking skills are further developed through:Realistic and engaging case studiesECG Interpretation exercises"What Would You Do?" scenariosComprehension of the course material is aided through:Skill drill activities Anatomy labeling exercisesMedical vocabulary building exercisesFun is ensured with these activities:Crossword puzzlesSecret messagesWord findsStudent Resources CD-ROMIncluded free with each copy of the Student Workbook!
This CD-ROM contains the following resources:GlossaryCommon PrefixesCommon SuffixesCommon Root WordsCommon AbbreviationsMedication FormularyMedication FlashcardsSkill Evaluation SheetsNational Registry Skill SheetsThe Student Workbook comes complete with an answer key and page references for further study.
Information
Format: Paperback / softback
Pages: 835 pages
Publisher: Jones and Bartlett Publishers, Inc
Publication Date: 25/10/2012
Category: First aid & paramedical services
ISBN: 9781449609245
Free Home Delivery
on all orders
Pick up orders
from local bookshops