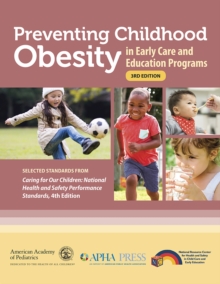 Preventing Childhood Obesity in Early Care and Education Programs : Selected Standards From 'Caring for Our Children: National Health and Safety Performance Standards, Fourth Edition'
Paperback / softback
Description
This coveted resource provides the latest national standards describing evidence-based best practices in nutrition, physical activity, and screen time for early care and education programs.
The standards are for all types of early care and education settings--centers and family child care homes.
These updated standards are a part of the new comprehensive Caring for Our Children: National Health and Safety Performance Standards; Guidelines for Early Care and Education Programs, 4th Edition. New in the 3rd Edition:Updated Standards CoveringActive Opportunities for Physical ActivityPlaying OutdoorsWritten Nutrition PlanProtection from Air Pollution While Children Are OutsideAvailability of Drinking WaterFeeding Plans and Dietary ModificationsCare for Children with Food AllergiesPreparing, Feeding, and Storing Human Milk and Infant FormulaFeeding Human Milk to Another Mother's ChildCleaning and Sanitizing Equipment Used for Bottle FeedingFeeding Age-Appropriate Solid Foods to InfantsPlus much more...
Information
Format: Paperback / softback
Pages: 72 pages
Publisher: American Academy of Pediatrics
Publication Date: 30/11/2019
Category: Paediatric medicine
ISBN: 9781610023566
Also by American Academy of Pediatrics | View all