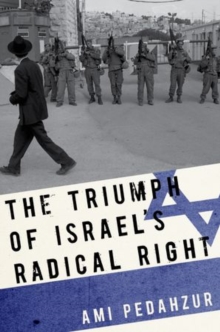 The Triumph of Israel's Radical Right
Hardback
Description
Two decades ago, the idea that a "radical right" could capture and drive Israeli politics seemed highly improbable.
While it was a boisterous faction and received heavy media coverage, it constituted a fringe element.
Yet by 2009, Israel's radical right had not only entrenched itself in mainstream Israeli politics, it was dictating policy in a wide range of areas. The government has essentially caved to the settlers on the West Bank, and restrictions on non-Jews inIsrael have increased in the past few years. Members of the radical right have assumed prominent positions in Israel's elite security forces.
The possibility of a two state solution seems more remote than ever, and the emergence of ethnonationalist politician Avigdor Lieberman suggests that itspower is increasing. Quite simply, if we want to understand the seemingly intractable situation in Israel today, we need a comprehensive account of the radical right. In The Triumph of Israel's Radical Right, acclaimed scholar Ami Pedahzur provides an invaluable and authoritative analysis of its ascendance to the heights of Israeli politics.
After analyzing what, exactly, they believe in, he explains how mainstream Israeli policies like "the right of return" have served as unexpected foundations fortheir nativism and authoritarian tendencies.
He then traces the right's steady rise, from the first intifada to the "Greater Israel" movement that is so prominent today. Throughout, he focuses on the radical right's institutional networks and how the movement has been able to expand its constituency. Hisclosing chapter is grim yet realistic: he contends that a two state solution is no longer viable and that the vision of the radical rabbi Meir Kahane, who was a fringe figure while alive, has triumphed.
Information
Format: Hardback
Pages: 296 pages
Publisher: Oxford University Press Inc
Publication Date: 29/11/2012
Category: Middle Eastern history
ISBN: 9780199744701
Free Home Delivery
on all orders
Pick up orders
from local bookshops