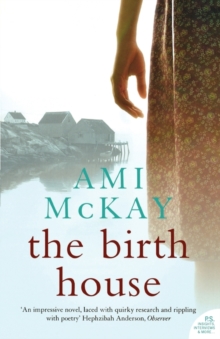 The Birth House
Paperback
Description
Spanning the 20th century Ami McKay takes a primitive and superstitious rural community in Nova Scotia and creates a rich tableau of characters to tell the story of childbirth from its most secretive early practices to modern maternity as we know it.Epic and enchanting, `The Birth House' is a gripping saga about a midwife's struggles in the wilds of Nova Scotia.As a child in the small village of Scot's Bay, Dora Rare - the first female in five generations of Rares - is befriended by Miss Babineau, an elderly midwife with a kitchen filled with folk remedies and a talent for telling tales.
Dora becomes her apprentice at the outset of World War I, and together they help women through difficult births, unwanted pregnancies and even unfulfilling marriages.But their traditions and methods are threatened when a Doctor comes to town with promises of painless childbirth, and sets about undermining Dora's credibility.
Death and deception, accusations and exile follow, as Dora and her friends fight to protect each other and the women's wisdom of their community.
Hauntingly written and alive with historical detail, `The Birth House' is an unforgettable, page-turning debut.
Information
Format: Paperback
Pages: 352 pages
Publisher: HarperCollins Publishers
Publication Date: 13/07/2007
ISBN: 9780007233304
Free Home Delivery
on all orders
Pick up orders
from local bookshops
Reviews
Showing 1 - 1 of 1 reviews.
Review by SmithSJ01
16/06/2015
Some well-rounded characters that you can really get to know whether you loathe or love them. This is a well-written book with excellent narrative but unfortunately it just went on and on and on. I don't feel Dora's relationship with family fighting on the front line played a part in this book and could've been missed out entirely - it distracted from the lovely story of Dora and her journey to find her strength and courage to do what she wanted to do. Miss Babineau is your stereotypical spinster from novels who wants to pass on all she knows about being a 'witch' to Dora. Eventually Dora, unlike her mentor, gets married; but hers is not a happy marriage. She discusses marriage with her friends and realises hers is not a good one. Unlike her friends, she is unable to get pregnant and performs all sorts of procedures on herself. The doctors recommendations/treatment would go down well in an Ann Summer's shop lol. A good look at midwifery around the time of the first world war, and an interesting comparison to 'The Red Tent' (which I'd say is much better). Dora eventually becomes exhiled from her community following the death of a pregnant woman but as with all novels like this there is a happy ending and she can come home. To be honest, I had to skim read to get it finished as it could've been a 100 pages shorter. Worth a read if you are interested in midwifery but don't be fooled by the blurb, it's not as good as that.