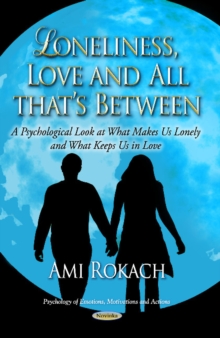 Loneliness, Love & All Thats Between : A Psychological Look at What Makes Us Lonely & What Keeps Us in Love
Paperback / softback
Description
Loneliness, as old as time itself, is not easy to define.
It's a bit like love -- you know when you feel it, but cannot specifically define it.
However, no one who ever walked on the face of this earth has gone through life without experiencing the pain of being lonely, alienated, and feeling unconnected to others, unloved, or even rejected.
Although we, in the 21st century, pride ourselves as inventors [the Internet, computers, reaching the moon, and biomedical advances] we did not invent this one -- loneliness was here way before any of us, and consequently we can find it mentioned in the Bible, literature, art, and philosophy. And, as things appear now -- it is here to stay. In addition to addressing loneliness, its causes, and how it affects our health, well-being, and quality of life, we also discuss what loneliness anxiety is, and the difference between loneliness and depression, for those two may go together, but are actually different.
While loneliness is inescapable, it does not mean that when we experience or feel it 'coming' that we just wait and embrace the pain until 'it' decides to leave us.
People have developed various ways of coping with loneliness; learning to either avoid or better cope with it.
This book lists a variety of successful methods to reduce the pain of loneliness, and in some ways, to reduce the probability of it happening.
Information
Format: Paperback / softback
Pages: 154 pages
Publisher: Nova Science Publishers Inc
Publication Date: 22/12/2013
Category: Psychology: emotions
ISBN: 9781629481104
Also by AMI ROKACH