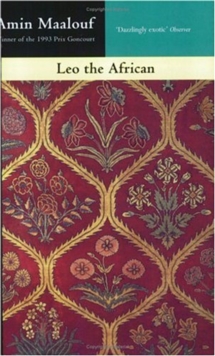 Leo the African
Paperback
Description
From his chlidhood in Fez, having fled the Christian Inquisition, through his many journeys to the East as an itinerant merhcant, Hasans story is a quixotic catalogue of pirates, slave girls and princesses, encompassing the complexities of a world in a state of religious flux.
Hasan too is touched by the instability of the era, performing his hadj to Mecca, then converting to Christianity, only to relapse back to the Muslim faith later in life.
In re-creating his extraordinary experiences, Amin Maalouf sketches an irrisistible portrait of the Mediterranea world as it was nearly five centuries ago - the fall of Granada, the Ottoman conquest of Egypt, Renaissance Rome under the Medicis: all contribute to a background of spectacular colour, matched only by the picaresque adventures of Hasan's life.
Information
Format: Paperback
Pages: 368 pages
Publisher: Little, Brown Book Group
Publication Date: 22/09/1994
ISBN: 9780349106007
Free Home Delivery
on all orders
Pick up orders
from local bookshops
Reviews
Showing 1 - 3 of 3 reviews.
Review by blackbelt.librarian
16/06/2015
A good book, but hard to understand if you don't know the background of the Middle East (I only have a very, very small knowledge of the Middle East). I read it on a friend's recommendation & I'm not sorry. Even though I didn't understand a lot of the history & terms, it piqued my interest & I want to learn more about Middle Eastern history & culture.
Review by xrayedgrl
16/06/2015
I have not even finished this book yet and it is one of my all time favorites. I have to thank Dr.Karim of AMC for recommending this book and author to me. Beautifully written with drama, romance as well as great descriptions of a time and people gone by. This story relates to all people and religions reminding us that we are all trying to serve our God, or not as the case may be, but we need to respect one another and try to live in peace or be condemned to make the mistakes of the past, Holy wars and the like, all over again. Maalouf is a master storyteller, able to paint frescos with his words and create emotion and life in his characters. What a great gift this work is!
Review by DinadansFriend
16/06/2015
Peter Slugett made a pretty good translation of this novel. Leo was a real person, and a considerable geographer, who was a treasure trove of information about Northern Africa to the renaissance. The novel has good empathy with a man out of his original place, coping with a dangerous environment.