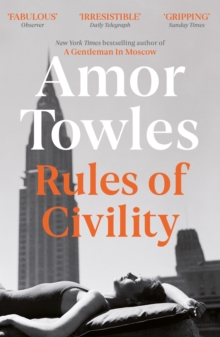 Rules of Civility
Paperback
Description
WHAT THEY SAID about RULES OF CIVILITY:'Everything about this novel, set in 1930s New York, is achingly stylish - from the author's name to the slinky jacket design.
Katey Kontent, daughter of Russian immigrants, and Evie Ross, from the sleepy midwest, are an ambitious, wisecracking pair who, despite lack of money and connections, aim to set the city alight.
A fortuitous meeting with the apparently wealthy Tinker Grey on New Year's Eve, 1937, will change the course of both their lives.' - Guardian 'If you want shopping at Bendel's, gin martinis at a debutante's mansion and jazz bands playing until 3am, RULES OF CIVILITY has it all and more ...While you're lost in the whirl of silk stockings, furs and hip flasks, all you care about is what Katey Kontent does next.
Another one bartender, please.' - Observer 'Irresistible ...A cross between Dorothy Parker and Holly Golightly, Katey Kontent is a priceless narrator in her own right - the brains of a bluestocking with the legs of a flapper and the mores of Carrie Bradshaw.' - Telegraph'Towles creates a narrative that sparkles with sentences so beautiful you'll stop and re-read them. A delicious and memorable novel that will leave you wistful ...and desperate for a martini.' - Stylist'My book of the year.
If the unthinkable happened and I could never read another new work of fiction in 2011, I'd simply re-read this sparkling, stylish book, with yet another round of martinis as dry as the author's wit.' - Herald
Information
Format: Paperback
Pages: 352 pages
Publisher: Hodder & Stoughton General Division
Publication Date: 01/01/2012
ISBN: 9781444708875
Free Home Delivery
on all orders
Pick up orders
from local bookshops
Reviews
Showing 1 - 5 of 13 reviews.
Previous | Next
Review by amandacb
16/06/2015
The Great Gatsy, this is decidedly not. Towles uses a dash (--) to set off dialogue instead of the standard quotation marks, thus proving that there is a visible annoyance multiple times on every page. His characters have ridiculous names and it's difficult to take them seriously, especially since they seem to not take themselves seriously. I enjoy reading about this time period, but this book was too vague and too untethered to truly reel me in. I actually have no idea what the plot was.
Review by RebaRelishesReading
16/06/2015
I chose Rules of Civility brcause an acquaintance said it was a "great book". I thought it was a pleasant read but wouldn't go so far as to say "great book.". It's the story of young people from various backgrounds living in New York in the 1930's. One strong theme is the struggle those from poorer backgrounds have "making it". As with many books with wealthy characters from the early 20th century there is an amazing amount of alcohol consumed...was it really like that?!
Review by arielfl
16/06/2015
This is the story of the coupling and uncoupling of a group of friends in 1930's New York. To give away anymore of the plot would be to ruin this elegantly written book. I couldn't put this book down once I started and I loved the marvelously named heroine Katey Kontent. It's Kon-tent like the state of being something Katey ironically has trouble achieving. Anyone who can remember what it was like to be in your twenties, charting your course in life for the first time with your friends by your side can relate to this story. 1930's Manhattan was also exquisitely rendered. What I wouldn't give to step out there for one night like Owen Wilson's time travel in Woody Allan's movie Midnight in Paris. Reading this book is the next best thing.
Review by Kelslynn
16/06/2015
One year, 1938. New York City. "High Society" Tinker Grey, perfecting perfection according to George Washington's Rules of Civility and with Anne Grandin's "tutelage." Working women Katie Kontent (the narrator) and Evie Ross, searching for their identities yet possessing strength of character. Peripheral characters Bitsy, Wallace Wolcott (I thought he was wonderful), Dicky Vanderwhile, Henry Grey (Tinker's brother), Mason Tate...wonderful. Rules of Civility is a character driven book, with many vignettes within the plot line. The language is superb.Thanks to the female customer in a wonderful little book store in St Joe, MI, who so highly recommended this book. It's a gem.
Review by MEENIEREADS
16/06/2015
I am adding this book because I read 138 pages!I read about 40 books of all types a year so when something is b - o - r - i n -gjust sign me EV Rewoman!This book's narrator was such a downer of a person. Even at the supposedly tender ageof say 24 when the main story takes place she sounded like a jaded,older GUY! Yes,from the beginning pages I thought it was a man narrating the story until she looked for herhusband!On and on we seemed to be going to no good place so I gave up on this sad story.Who wants to be depressed in the summer?What a shame as the cover of this book is delightful and the story and era soundedso interesting....................
Also by Amor Towles