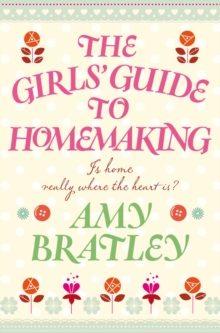 The Girls' Guide to Homemaking
Paperback
Description
'What makes you happy? What do you want from life?' I ran through a list of things that I supposed would make me sound cool. And then I told the truth. 'A home,' I said. 'A home with some people in it I love.' On a mission to have the perfect home, with tweeting bluebirds and a white picket fence, Juliet hits a major stumbling block - reality.
On the first night with her boyfriend in their new flat, Juliet discovers that Simon has been sleeping with her best friend.
After growing up in a dysfunctional family with secrets that haunt her, there's no way she is prepared to build her nest on a broken branch.
Heartbroken and seeking an escape from her troubles, Juliet retreats into the comforting world of her grandmother's 1950s homemaking manuals, discovering tips like 'put a ribbon in your hair to brighten your husband's day' and though Juliet knows that won't get her anywhere, she discovers that craft and homemaking are back in style.
Taking control of her life, Juliet is determined to get her home with a heart.
But who will win hers?
Information
Format: Paperback
Pages: 336 pages
Publisher: Pan Macmillan
Publication Date: 01/02/2011
ISBN: 9780330518000
Free Home Delivery
on all orders
Pick up orders
from local bookshops
Reviews
Showing 1 - 1 of 1 reviews.
Review by sunnycouger
16/06/2015
I had such high expectations for this book that perhaps I was bound for disappointment, but I find it so hard to be forgiving of a book with what should have been such a good concept that was let down with such awful characters.<br/><br/>On the basic, barebones outline of this story it sounds great - a woman moves into a new flat to discover on the first night that her boyfriend of 4 years had a one-night stand with their former flatmate and then, as she tries to re-evaluate her life starts working through her grandmother's old home-making manuals and finally discovers who she really wants to be.<br/><br/>THAT is the story I thought I was going to be reading, but what I ended up with was with a main character who had zero redeeming features (seriously - zero. She whined, moaned, cried, was hypocritical, was needy, was weak and actively encouraged infidelity after she already knew how much it hurt to be cheated on. But the thing with this book is that infidelity is bad when it's the guy who is cheating, but it's different for a woman (especially if its with another woman *rolleyes*) - did I mention hypocritical?<br/><br/>The male characters in the book with the exception of Dylan (who is infinitely too good for anyone in the book) are all shallow, oafish, idiots which is something I hate in the chick-lit genre. Just because I want a fun book that doesn't make me think so hard, it doesn't mean I need things to be so dumbed down - I don't need it hammered into my head how awful a guy is as a choice by making him a caricature and I certainly don't need the obvious pointed out. In fairness, the female characters in this aren't much better - Juliet's failings are obvious, but her friends and family aren't that much better. Flighty mother, kooky aunt, cheating best friend...in fact the only female character in the book that I cared much for was Hanna (the room-mate who slept with Simon), which I'm pretty sure wasn't the idea considering.<br/><br/>I wanted to love this book. I love vintage stuff, I love romance and Marilyn Monroe and I love mindless chicklit! But not when it's this mindless. Cheap dramatic tricks, the overall tone of hypocrisy by the author, the lack of a sympathetic 'heroine' and the fact that the only real home-making guide stuff we got was at the intro to each chapter. Sadly those excerpts of other peoples books were the most entertaining things about the book and that really makes me sad because as a premise, this should have been great but it was so badly let down in execution.
Also by Amy Bratley