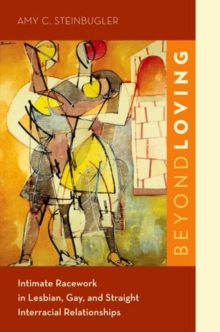 Beyond Loving : Intimate Racework in Lesbian, Gay, and Straight Interracial Relationships
Paperback / softback
Description
Intimacy between blacks and whites in the United States is a crucial point of inquiry because this color line has historically been the most rigorously surveilled and restricted. Because of this history, social scientists use interracial intimacy as a barometer of the social distance between racial groups, and view growing numbers of interracial couples as evidence of racial progress.
But are interracial couples really able to carve out a 'raceless' intimate sphere?Or are interracial relationships microcosms of broader-level racial hierarchies?In this book, Amy Steinbugler challenges the widespread assumption that interracial intimacy represents the ultimate erasure of racial differences.
She finds that while interracial partners may be more racially progressive, they are not necessarily enlightened subjects who have managed to get beyond race.
Instead, for many partners interracial intimacy represents not the end, but the beginning of a sustained process of negotiating racial differences.
Using qualitative interviews andethnographic case studies with both heterosexual and same-sex black/white couples, Steinbugler explores the social practices through which interracial partners respond to and negotiate racial difference in their relationship, what she calls "racework." Even though these processes unfolded in very similar waysfor every interracial partner she interviewed, racial identities and attitudes remained generally stable and issues of power and privilege crept into even the most ordinary situations.
Intimacy, Steinbugler finds, does not necessarily erode racial differences.
In addition, the interviews with same-sex interracial couples-a topic on which there is very little research-allow Steinbulger to examine for the first time how everyday racial practices are shaped by sexuality and gender.
Our racial present is a complex mix of enduring inequalities and new cultural messages. Beyond Loving adeptly examines how interracial couples experience race in their everyday lives and how they engage one another to address fundamental questions about the significance of race in contemporary life.
Information
Format: Paperback / softback
Pages: 240 pages
Publisher: Oxford University Press Inc
Publication Date: 16/06/2012
Category: Social discrimination
ISBN: 9780199743568
Free Home Delivery
on all orders
Pick up orders
from local bookshops