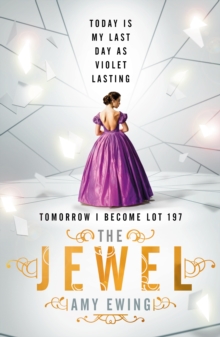 The Lone City 1: The Jewel
Paperback
Description
A shocking and compelling new YA series from debut author, Amy Ewing; The Handmaid's Tale meets The Other Boleyn Girl in a world where beauty and brutality collide.Violet Lasting is no longer a human being.
Tomorrow she becomes Lot 197, auctioned to the highest royal bidder in the Jewel of the Lone City.
Tomorrow she becomes the Surrogate of the House of the Lake, her sole purpose to produce a healthy heir for the Duchess.
Imprisoned in the opulent cage of the palace, Violet learns the brutal ways of the Jewel, where the royal women compete to secure their bloodline and the surrogates are treated as disposable commodities.
Destined to carry the child of a woman she despises, Violet enters a living death of captivity - until she sets eyes on Ash Lockwood, the royal Companion.
Compelled towards each other by a reckless, clandestine passion, Violet and Ash dance like puppets in a deadly game of court politics, until they become each other's jeopardy - and salvation.
Information
Format: Paperback
Pages: 368 pages
Publisher: Walker Books Ltd
Publication Date: 04/09/2014
Category: Romance
ISBN: 9781406347494
Free Home Delivery
on all orders
Pick up orders
from local bookshops
Reviews
Showing 1 - 2 of 2 reviews.
Review by sscarllet
16/06/2015
Ok, so I've read a lot of other reviews of this book and they weren't very flattering. I also agree with what they were saying. This is not a literary masterpiece and shouldn't be read that way. What this is is a book that is entertaining enough to make me forget that I am on a crowded smelly train on the way home. If you like young adult dystopian and don't feel the need to take it too seriously, then read this book. But, if you have to pick apart an imaginary world and are far too serious a human being then don't bother. <br/><br/>The cliffhanger at the end was downright mean. I really hope that Ewing gets the sequal out sooner rather than later. I would quite like to know what happens next.
Review by wyvernfriend
16/06/2015
Enjoyable while reading, suffers from comparison with The Handmaid's Tale, which also had added elements of believability.I know several people in reviews who refer to the magic, which reads more like psionics to me, and falls into my Science Fiction box. The story centres around a young girl who is about to come of age and be auctioned off to one of the leaders to provide a child because inbreeding has left the women in this society unable to bear children. This is now law and they don't even try any more, the women are sterilised on marriage to this elite class. This is not what Violet wants for her life and when she discovers what happens to women afterwards she really wants out, so it's handy that she finds allies.It's interesting but the world has no background nothing that made it all rational to me and I wanted more from it, it suffers in comparison with Handmaid's Tale, Gate to Women's Country and several more.
Also in the The Lone City Trilogy series