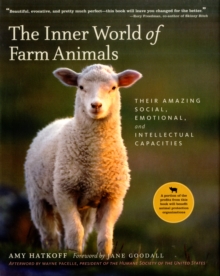 The Inner World of Farm Animals : Their Amazing Social, Emotional and Intellectual Capacities
Hardback
Description
"The Inner World of Farm Animals" is a fascinating glimpse into the minds and hearts of farm animals.
Through breakdowns of scientific experiments and discoveries, charming anecdotal side bars and poignant photos, cows, pigs, sheep, goats and chickens become kindred spirits as we see how they parent like us, form monogamous relationships, mourn, empathize, and rejoice.
Hatkoff takes the hard science and makes it accessible to the average reader with her one-of-a-kind treatment, gently making the case that farm animals are closer to us than we think and perhaps we should consider making some changes to improve their lives.
Though it is hard to read this book without considering our food choices, it does not have an agenda.
Humans are fascinated by how animals think, communicate and feel in ways similar to us.
Jane Goodall proved how close other primates are to us, not just in DNA but in the way they behave.
Now it is becoming clear that the animals that are raised for food are more similar to mankind than we may have previously thought.
Information
Format: Hardback
Pages: 176 pages, 90 colour illustrations
Publisher: Stewart, Tabori & Chang Inc
Publication Date: 01/04/2009
Category: Farm & working animals
ISBN: 9781584797487
Free Home Delivery
on all orders
Pick up orders
from local bookshops
Reviews
Showing 1 - 3 of 3 reviews.
Review by herfancy
16/06/2015
This book presented how farm animals respond emotionally and intellectually with the world around them. It is very easy to read with the text interspersed with beautiful photography. After reading the text, the reader is left with little doubt as to how similar animals and humans are in their desire to form relationships and to be treated with kindness and respect. There are many delightful examples of animals' personalities shining through with my favourite stories being those of inter-species friendships. I was heading towards giving this book 5 stars until I read the "What You Can Do" section. I believe the most powerful action anyone can take to help animals is to become vegan and stem the demand. It is the basic law of economics. Reduce the use and the supply will fall away. Sadly, the author has only given a cursory mention to veganism in a section that mainly deals with food choices. In fact veganism is mentioned in the same sentence as vegetarianism which includes dairy and egg use. I found this odd as some pages back had been devoted to the horrible anxiety cows go through when separated from their calves. Overall a very well researched and collated book, but fell short when it could have delivered a powerful message for change at the end.
Review by Lisa2013
16/06/2015
Recommended for: everybody!; anyone who has ever known & loved a non-human animalI cannot sufficiently extol the contents of this book. I've read so many animal books over the years, but this one presents a truly unique perspective. The photos are exquisite. The information provided is important. The book is truly inspirational. It's full of happy stories of animals living in sanctuaries and therefore living lives normal for them, and it was disturbing only when I considered (which I couldn't help thinking about) how these animals are normally treated.I received this book as a birthday gift by a long time friend of mine; she happens to be a friend of the author. I'd had this book on my to-read shelf, as it was recommended to me by a Goodreads friend, but had not realized that it was written by a woman I knew very slightly over three decades ago, having her in my acquaintance because of this mutual friend. I can say honestly that my rating and review are not influenced by my very brief acquaintance with the author. In fact, I know my review will not do justice to this amazing book.Here's the table of contents: Forward (by Jane Goodall)IntroductionChapter One: ChickensChapter Two: Geese, Ducks, and TurkeysChapter Three: CowsChapter Four: PigsChapter Five: Sheep and GoatsAfterword (by Wayne Pacelle, President of the Humane Society of the U.S.)What You Can DoSanctuariesResources (Organizations, Books, For Children and Educators (Classroom Materials, Videos for Children, Books for Children and Youth), Bibliography)AcknowledgmentsPhoto CreditsI have to start out by saying that the photographs of all the animals are incredibly beautiful and particularly wonderful because the personality of each animal shines through. If there wasn't such interesting information in the book, this could work as a coffee table book because of its beauty.I cannot get enough of this type of information, especially when it's given in a way that isn't horrifying, and these animal's stories are basically happy ones. The information about various species of farm animals is given simply and straightforwardly. These are very personal stories which touch the heart and that make one think, at least that's the hope. The horrors of factory farming are only alluded to, barely mentioned, so I can recommend this book to everyone, not just vegans or those interested in animal rights.I wasn't necessarily expecting to learn anything new, although I knew I probably would, but I was just happy to read something that would validate my current feelings and beliefs. However, I learned quite a bit more than even I'd expected.I was particularly intrigued with how sheep can recognize sheep from their own flock when viewing photographs and the effect that has on them, and there were so many more tidbits like this of information new to me.This book is engaging, heartwarming, uplifting, and also devastating because the reader can't help but be aware of the quality of life and ultimate fate of the vast majority of these animals. However the stories here are not at all depressing because they're primarily about animals living in conditions that allow them to have their natural behaviors.There are lots of vignettes of the lives of animals living in sanctuaries, quotes from many other books, quotes by and mini interviews from those in the animal welfare and animal rights movements, most from sanctuary workers who know the animals as individuals.This book is suitable for vegans and vegetarians and omnivores. It doesn't push a strong vegan message (although of course that's how I saw it) but the What You Can Do section gives a variety of actions people can take to improve the lives of animals, and eating fewer or no animal products is not given a more prominent place than other options. Even if this book doesn't change the way every single reader looks at what's on their plate, it will hopefully make them more able to empathize with our fellow creatures.Anyone who's ever known and loved an animal of any non-human species (dogs, cats, etc.) will probably enjoy this book, and I'd love for the few people I know who have no affinity with animals to read it, because I think it would change the way that they think and feel.This would make a great gift book for both adults and older children. It's a gorgeous book.Many of the books in the resources section and bibliography I've not yet read or put on my to-read shelf, so I've got to rectify that situation: onto my unwieldy and unrealisitc to-read shelf they'll go. I'm pleased to see that my city's public library has this book; I was going to request that they buy it. However, a portion of the profits from this book goes to animal protection organizations, and it's simply a lovely book to own, so I recommend buying a copy for yourself and copies to give as gifts also. I treasure my copy.And Lydia, a marvelous turkey, my favorite sanctuary animal ever, makes an appearance in this book. She was very friendly and loving.
Review by dk_phoenix
16/06/2015
The more I learn about farm animals and their emotional & intellectual capabilities, the more amazed I am... but also the more distressed I am at how we treat other living beings on this planet. Honestly, after what we've been learning, I don't know how we can continue to breed and consume these incredible creatures the way we have been. I wish I could do something but I don't know what to do... and then when I consider how we treat other human beings, I guess it shouldn't be surprising that we do this to the animals on our planet that we consider "disposable." But anyway. About the book...This volume is a fairly quick read that summarizes material out of other source materials, providing stories and information out of scientific studies, as well as anecdotes that illustrate the things we've learned. Farm animals, we now know, are not just dumb farm animals. Cows, for example, make "best friends" and will mourn the loss of a friend for weeks -- including traveling to their grave and laying on it. Chicks, while still "embryos", will begin calling to their mother 24 hours before they're ready to hatch, and their mother peeps back to them in soothing tones to reassure them. If they don't hear their mother... these creatures are born into insecurity and fear. Pigs are smarter than dogs -- if they complete a task correctly once, they will remember it forever.One story that stood out to me in this book was the story of a chicken named Liza -- the story comes from another book but was included in this volume to illustrate information on chickens' emotional intelligence and social behavior. One day, a farmer's chickens were hanging out in a field, when a hawk began circling overhead. The chickens communicated danger to each other and all ran toward safety in the treeline. But when Liza reached the trees, she turned around and realized that her chicks -- who were too young to understand the "danger" call -- were still in the middle of the field, eating. She immediately raced back to her babies, spread her wings over them, and flattened herself to the ground, covering her chicks. She was willing to make the ultimate sacrifice -- potentially giving up her own life -- for the life of her children. If a human does this, they are considered a hero. A chicken does this, and we don't blink an eye. And while I believe that a human life is more valuable than a chicken's life (just my personal belief), I don't believe we have a right to treat any living being with disrespect -- and seeing that same action done out of love for one's children, regardless of the species, well... it's incredible, beautiful, and breaks my heart to think that we dismiss these farm animals as being stupid and unworthy of care or respect.Anyway. The book is extremely compelling, will force you to think, amaze you at the intelligence of animals on our planet that we've considered "dumb as rocks" before, and the photographs are beautiful. If I could share this book with every single person I know, I would.