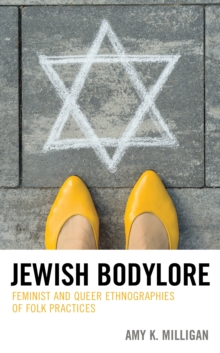 Jewish Bodylore : Feminist and Queer Ethnographies of Folk Practices
Hardback
Description
Jewish Bodylore: Feminist and Queer Ethnographies of Folk Practices explores the Jewish body and its symbology as a space for identity communication, applying the tools of bodylore (the folkloric study of the body) to the Jewish body in ways that are in line both with feminist and queer theory.
The text centers a feminist folkloric approach to embodiment while simultaneously recognizing its overlaps with the study of Jewish bodies and symbols.
It investigates Jewish embodiment with a keen eye to that which breaks from tradition.
Consideration is given to the ways in which bodies intersect with time and space in the synagogue, within religious movements, in secular culture, and in childhood ritual.
Representing a unique approach to contemporary Jewish Studies, this book argues that Jewish bodies and the intersections they represent are at the core of understanding the contemporary Jewish experience.
Rather than abandoning or dismissing Judaism, many contemporary Jews use their bodies as a canvas, claiming space for themselves, demonstrating a deliberate and calculated navigation of Jewish law, and engaging a traditionally patriarchal symbol set which, in its feminist use, amplifies their voices in a context which might otherwise silence them.
Through these actions and choices, contemporary Jews demonstrate a nuanced understanding of their public identities as gendered and sexed bodies and a commitment to working towards increased inclusivity within the larger Jewish and secular communities.
In the end, this book is a foray into the world of Jewish bodies, how they can be conceptualized using folkloristics, and how feminist methodologies of the body can be applied fairly to Jewish bodies, celebrating the multitude of ways in which the body can be conceptualized and experienced.
Information
Format: Hardback
Pages: 140 pages, 2 Tables, unspecified
Publisher: Lexington Books
Publication Date: 27/12/2018
Category: Literary studies: general
ISBN: 9781498595797