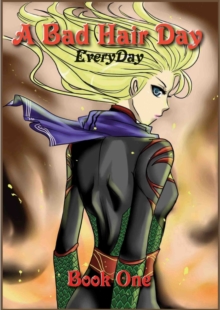 A Bad Hair Day : A Bad Hair Day Everyday
Paperback / softback
Illustrated by

Heby
Description
A unique take on Male to Female body changing, M2F, gender change, Age Regression, gender bender, possession and School work.
Wearing a dress on a job to steal alien technology had not been JJ's idea, and it did not help that they said he looked cute in high heels.
Willingly being infected by an alien parasite had been more of a mistake than clear thinking on his part.Perhaps it had not been the best of ideas to ask for help and protection from a gender confused parasite, whilst wearing a dress and pretending to be a woman.
Being blown up, shot, thrown off a cliff and then drowned, looked to be time for a career change.
But how was JJ to know the parasite could give him a new life package including changing his age and gender.
As for protection "she" could now grow homicidal hair that would bite anyone that tried to touch it or her.
She did know it was normal for girls to worry about their hair, but her personal worry was how to explain to the police about the bodies" ...Excerpt:...Mistakenly making herself home for an Alien Parasite was not as bad as it sounded or so the voices in her head told her, She was of course too old to have invisible friends, so she had put the voices down to just being mad and normally simply tried to ignore them. Now her hair was a completely different matter as if ignored then it became unmanageable.
Looking in the bathroom mirror, what she saw was a naked but well-formed, lightly tanned body.
Using two hands, she pushed her breasts up and smiled at the result.
Firm-breasted and with an air of someone who looked after her figure, she was "Hot": shoulder-length natural (or maybe supernatural) blonde Hair had a cute fringe that curled down one side of her face.
As she watched, the fringe began to braid itself until it looked more like a snake than a cute hairstyle, and the rest of the Hair had now decided to form a tight bun on the top of her head.She knew it was normal for a girl to worry about her hair, but that was as far as normal went; her personal worry was how to explain to the police about the bodies if she forgot to feed it again, and it would get in a bad mood and kill someone.
She had heard of other people having uncontrollable hair, but she was sure that they did not mean it in quite the same way.
Information
Format: Paperback / softback
Pages: 200 pages, Cartoons
Publisher: Reardon Publishing
Publication Date: 25/02/2016
ISBN: 9781901037074
Free Home Delivery
on all orders
Pick up orders
from local bookshops
Also by Amy Mah