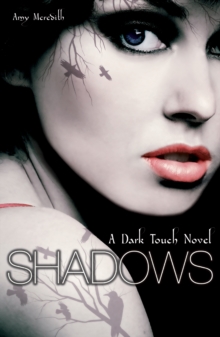 Dark Touch : Shadows
Paperback
Description
Fifteen-year-old Eve Evergold is cute, sassy and enjoying a busy social life.
What she doesn't know yet is that someone close to her is an evil demon that only she has the supernatural power to defeat.
She needs to work out who it is - and fast! Because although there's something very attractive about the dark side...dating a demon?
Pure hell!
Information
Format: Paperback
Pages: 288 pages
Publisher: Random House Children's Publishers UK
Publication Date: 01/03/2010
Category: Fantasy
ISBN: 9781849410519
Free Home Delivery
on all orders
Pick up orders
from local bookshops
Reviews
Showing 1 - 2 of 2 reviews.
Review by DamarisGCR
16/06/2015
SOME SPOILERSI read this book and really thought I would like it and I just did not. :-( I had really high hopes after reading the small introduction about the book and it was a let down for me. I feel like everything in this book was so fake. Like Eve finds out she can shoot sparks out of her hands and Luke see's her do it and is like "Oh ok. Let's figure it all out" when mind you they hated each other pretty much. None of her friends were shocked at all that she could do this and even Eve was not freaked out by it or anything. I felt like she just found out something about herself that would shock me or anyone around me, but was not affected by it and thought only about going to buy Gucci shoes. Another thing I did not like was that she finds out that she has to use her powers to kill a demon who is sucking souls out of the females in her town, but yet she has no clue on how to find this guy or where to even begin. Uh, let's see... Two new guys just moved into your town, one is a little player and always in your face and teasing you, constantly gets on your nerves and the other is so mysterious, appears out of no where, seems to be reading your thoughts, does not say much when having a conversation with you and yet you can't seem to figure out who it is? This book was predictable and there was nothing unique about any of the characters. It seemed the author focused more on the girls lifestyle. They worried more about shopping than a demon running around their town that Eve was suppose to destroy. I could not relate to any of the characters and did really find myself liking any of the characters either. The characters profile needed more work because I really did not get a feel for any of them. I really hate to give bad reviews, but I was disappointed with this book. But hey, this is my opinion on it someone else might like it. It was like a mix of Gossip Girl (minus the sex) and Scary Movie hahah if that makes any sense at all. LOL
Review by JenMillar
16/06/2015
I picked up this books because the cover caught my attention and the short description on the back made it sound like it could be a good read. It was not. The characters of this book are really shallow and not at all likeable. The storyline is very predictiable, pretty much after quarter of the book you know how its gonna end. That doesnt necessarily have to be bad thing, if a book is well written I usually still enjoy reading it, but unfortunatley it wasnt. I am sorry, but I really would not recommend this book.