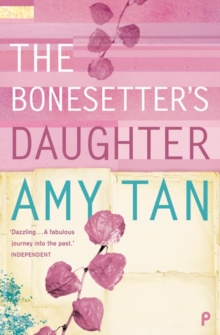 The Bonesetter's Daughter
Paperback
Description
A major novel from the internationally bestselling author of `The Joy Luck Club', `The Kitchen God's Wife' and `The Hundred Secret Senses'.LuLing Young is in her eighties, and finally beginning to feel the effects of old age.
Trying to hold on to the evaporating past, she begins to write down all that she can remember of her life as a girl in China.
Meanwhile, her daughter Ruth, a ghostwriter for authors of self-help books, is losing the ability to speak up for herself in front of the man she lives with.
LuLing can only look on, helpless: her prickly relationship with her daughter does not make it easy to discuss such matters.
In turn, Ruth has begun to suspect that something is wrong with her mother: she says so many confusing and contradictory things.Ruth decides to move in with her ailing mother, and while tending to her discovers the story LuLing wrote in Chinese, of her tumultuous life growing up in a remote mountain village known as Immortal Heart.
LuLing tells of the secrets passed along by her mute nursemaid, Precious Auntie; of a cave where dragon bones are mined and where Peking Man was discovered; of the crumbling ravine known as the End of the World, where Precious Auntie's bones lie, and of the curse that LuLing believes she released through betrayal.
Like layers of sediment being removed, each page unfolds into an even greater mystery: Who was Precious Auntie, whose suicide changed the path of LuLing's life?Set in contemporary San Francisco and pre-war China, `The Bonesetter's Daughter' is an excavation of the human spirit.
With great warmth and humour, Amy Tan gives us a mesmerising story of a mother and daughter discovering together that what they share in their bones through history and heredity is priceless beyond measure.
Information
Format: Paperback
Pages: 352 pages
Publisher: HarperCollins Publishers
Publication Date: 01/10/2001
ISBN: 9780006550433
Free Home Delivery
on all orders
Pick up orders
from local bookshops
Reviews
Showing 1 - 4 of 4 reviews.
Review by ElizaJane
16/06/2015
It has been quite a while since I read Amy Tan's first three books and this fourth one did fall short of my expectations. Amy Tan fans will enjoy but if you haven't read Tan before I do not recommend this as your first read, try The Joy Luck Club or The Hundred Secret Senses instead.
Review by karriethelibrarian
16/06/2015
Started out slow for me, but I enjoyed it immensely once I got into it.
Review by mumfie
16/06/2015
It was interesting but not original. The middle part of the story, depicting the mother's childhood in China was more convincing than the daughter's modern day difficulties with her partner and ageing mother.
Review by readingwithtea
27/08/2015
"Those were the small rituals we had, what comforted us, what we loved, what we could look forward to, what we could be thankful for. And remember afterward."Ruth Young doesn't know what to do about her ailing mother LuLing – she's forgetful and argumentative, clearly on the cusp of Alzheimer's. In an effort to break through her mother's increasing paranoia, she finally makes time to sit down and read the memoirs her mother has been asking her to read for years. She learns about her mother's difficult childhood, the time in a Christian orphanage, the struggle to get to America, and suddenly so much is clear.The book is divided into three sections – Ruth's initial struggles with her mother, the written account of her mother's life in China before and during the Second World War, including the Japanese occupation, and the ending.I actually particularly enjoyed the first section; Ruth's struggles as the put-upon daughter, her relationship issues and distrust of her partner's ex-wife. It's standard commercial fiction stuff, but tempered by the cultural conflict, and more sensibly introspective than most.The middle section is the longest. It feels like this is section that the book is really supposed to be about and the other bits are bookends (literally?) but I couldn't have made it through the whole book if it was all in the tragic, disaster-ridden tone of the middle section. So many of these books seem to tell the same story – The Kitchen God's Wife, Chinese Cinderella etc. i.e. the story of a daughter of the family who is somehow apart from the others, and her shameful treatment at the hands of the family. This novel is a little happier than average, and LuLing gets her happy ending without too many disasters. I found this section at once the least interestingly written and the most interesting subject matter.The ending is a little saccharine – the domestic battle that has been bubbling for months is forgotten through a lavish financial contribution; the step-daughters who are surly and difficult at the start of the book suddenly want to spend time with Ruth and her mother. There is a late discussion with someone who would actually have been able to help with Ruth's troubles had she only thought to ask earlier (as was the case in The Kitchen God's wife). I wonder whether the concluding section was actually carved too savagely by an editor? In any case, all the issues are neatly wrapped up.As I always do with this type of book, I found the female characters strong and easily identifiable, while the men were one-dimensional and muddled. Why is this always the case? Something to do with the fact that the whole narrative is from a female perspective? Ruth is a sympathetic protagonist; struggling with her duties as a good daughter, partner and step-mother. LuLing is a more difficult character to understand, but she holds her own well enough.A perfectly good holiday book, but there's better works in this genre (by this author, too).