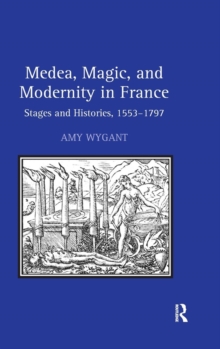 Medea, Magic, and Modernity in France : Stages and Histories, 1553-1797
Hardback
Description
Bringing together the previously disparate fields of historical witchcraft, reception history, poetics, and psychoanalysis, this innovative study shows how the glamour of the historical witch, a spell that she cast, was set on a course, over a span of three hundred years from the sixteenth to the eighteenth centuries, to become a generally broadcast glamour of appearance.
Something that a woman does, that is, became something that she has. The antique heroine Medea, witch and barbarian, infamous poisoner, infanticide, regicide, scourge of philanderers, and indefatigable traveller, serves as the vehicle of this development.
Revived on the stage of modernity by La Peruse in the sixteenth century, Corneille in the seventeenth, and the operatic composer Cherubini in the eighteenth, her stagecraft and her witchcraft combine, author Amy Wygant argues, to stun her audience into identifying with her magic and making it their own.
In contrast to previous studies which have relied upon contemporary printed sources in order to gauge audience participation in and reaction to early modern theater, Wygant argues that psychoanalytic thought about the behavior of groups can be brought to bear on the question of "what happened" when the early modern witch was staged. This cross-disciplinary study reveals the surprising early modern trajectory of our contemporary obsession with magic.
Medea figures the movement of culture in history, and in the mirror of the witch on the stage, a mirror both appealing and appalling, our own cultural performances are reflected.
It concludes with an analysis of Diderot's claim that the historical process itself is magical, and with the moment in Revolutionary France when the slight and fragile body of the golden-throated singer, Julie-Angelique Scio, became a Medea for modernity: not a witch or a child-murderess, but, as all the press reviews insist, a woman.
Information
Format: Hardback
Pages: 228 pages
Publisher: Taylor & Francis Ltd
Publication Date: 28/09/2007
Category: Theatre studies
ISBN: 9780754659242
Other Formats
EPUB from £40.49
PDF from £40.49