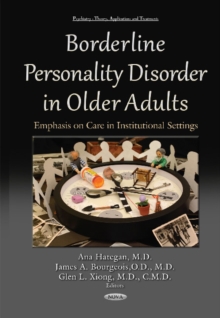 Borderline Personality Disorder in Older Adults : Emphasis on Care in Institutional Settings
Hardback
Description
With the book Borderline Personality Disorder in Older Adults: Emphasis on Care in Institutional Settings, Drs.
Hategan, Bourgeois, and Xiong address an often underappreciated clinical problem that is likely increasing with the aging of the population.
Geriatric patients with borderline personality disorder, like their younger counterparts, experience social and relationship challenges, comorbid psychiatric illness (including but not limited to substance use disorders), comorbid systemic illness, and are high utilizers of medical and social services.
With the aging of the population worldwide, more older patients with chronic/progressive illnesses are to be found in various institutional settings such as skilled nursing facilities, rehabilitation units, and residential care, as well as in the general hospital.
However, these patients' habitual patterns of behavior (including affective dyscontrol, externalizing of blame, "splitting" the external world into groups who are "all good" and "all bad") make the compromises and need for collectivity in institutional settings more challenging than for any other easily defined and demarcated patient group.
The Editors have assembled a large team of authors and co-authors to produce a clinical handbook that addresses the clinical, social, and administrative needs of this particular group of patients.
They include an overview of the development of the diagnosis of borderline personality disorder over several issues of the Diagnostic and Statistical Manual of Mental Disorders classification system; the epidemiology and comorbidity, personality and aging, clinical diagnosis and productive use of psychometrics; clinical interventions including psychotherapy, psychopharmacology and advanced somatic treatments; and chapters devoted to medical-legal matters, systems of care, therapeutic alliance, and palliative care approaches.
In all chapters, the authors have endeavored to focus specifically on the challenges posed for the patient, the clinician, and the larger system for geriatric patients with borderline personality disorder.
The authors and the editors hope that this volume summarizes the current clinical literature pertinent to the care of this population, with a focus on clinical encounters, clinical decision making, and techniques for interventions with patients and clinical systems of care to enhance the opportunities for favorable clinical outcomes for these patients, who typically have difficulty coping with the major existential challenges of old age, infirmity, and mortality.
Greater awareness of borderline personality disorder in this population and greater clinician attunement to its understanding and management may serve the patient and the care system in this regard.
Information
Format: Hardback
Pages: 148 pages
Publisher: Nova Science Publishers Inc
Publication Date: 01/06/2015
Category: Geriatric medicine
ISBN: 9781634822213