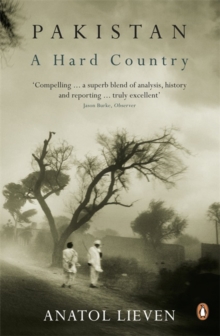 Pakistan: A Hard Country
Paperback
Description
DAILY TELEGRAPH and INDEPENDENT BOOKS OF THE YEAR LONGLISTED FOR THE ORWELL PRIZE 2012 2011 LOS ANGELES TIMES BOOK PRIZE FINALIST In the wake of Pakistan's development of nuclear weapons, unpoliceable border areas, shelter of the Afghan Taliban and Bin Laden, and the spread of terrorist attacks by groups based in Pakistan to London, Bombay and New York, there is a clear need to look further than the simple image of a failed state so often portrayed in the media, and to see instead a country of immense complexity and importance. Lieven's profound and sophisticated analysis paves the way for clearer understanding of this remarkable and highly contradictory country.
Information
Format: Paperback
Pages: 592 pages, 16 pp
Publisher: Penguin Books Ltd
Publication Date: 23/02/2012
Category: Asian history
ISBN: 9780141038247
Free Home Delivery
on all orders
Pick up orders
from local bookshops
Reviews
Showing 1 - 1 of 1 reviews.
Review by Opinionated
16/06/2015
A very comprehensive and illuminating study of Pakistan, focusing less on its conflicts than on the things that bind it together. In his introduction Lieven states that he was originally going to call the book "Why Pakistan works"; I think he should have done as too often all we hear is of Islamic extremism and its imminent failure. In fact, as Lieven points out, Pakistan is very unlikely to fail apart whilst the glue that holds it together is in place. This is not to brush the many problems Pakistan faces aside - from its unsustainable birthrate to ecological challenges as well as the strategic problems of the Pakistan Taliban, Afghanistan, India and US interference in the region - but to place them into a meaningful context.Lieven has several main themes. 1. Pakistan is bound together by clan and family structures especially in its powerful "feudal" landowning families that are far more influential than those of religion - this is problematic in itself but makes the prospect of increased influence of the Pakistan Taliban beyond the tribal agencies unlikely. 2. Most Pakistani's support the Afghan Taliban as freedom fighters defending their country from invasion, but that doesnt mean they support the Pakistan Taliban 3. The army is what holds the whole country together 4. Central government is weak so local power holds sway and 5. Allegiance to ethnic culture identity (eg being a Pashtun) overides everythingI found the book erudite, readable, exhaustive and occasionally exhausting. Should be read by anyone with an interest in this most strategically vital of countries