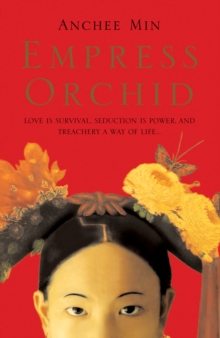 Description
To rescue her family from poverty and avoid marrying her slope-shouldered cousin, seventeen-year-old Orchid competes to be one of the Emperor's wives.
When she is chosen as a lower-ranking concubine she enters the erotically charged and ritualised Forbidden City.
But beneath its immaculate facade lie whispers of murders and ghosts, and the thousands of concubines will stoop to any lengths to bear the Emperor's son. Orchid trains herself in the art of pleasuring a man, bribes her way into the royal bed, and seduces the monarch, drawing the attention of dangerous foes.
Little does she know that China will collapse around her, and that she will be its last Empress.
Information
Format: Paperback
Pages: 352 pages
Publisher: Bloomsbury Publishing PLC
Publication Date: 03/01/2005
Category: Historical fiction
ISBN: 9780747568339
Free Home Delivery
on all orders
Pick up orders
from local bookshops
Reviews
Showing 1 - 5 of 8 reviews.
Previous | Next
Review by Wanderlust_Lost
16/06/2015
If you like historical fiction set in Eastern Asia then you'll probably love this book. It's a fairly well written and fairly powerful novel about the life of a girl named Orchid, a poor girl from a country family who applies and is ultimately accepted as one of the Emperor's head wives. Very enjoyable, though slightly sticky in some places and ultimately not a great book. I liked it, and I was pleased with it but the tone was a bit awkward and I never felt the proper connection for the characters that I was meant to feel. The ending was also a bit strange. Granted that it's difficult to make a novel based on actual events do all you want it to if what you would like to write didn't happen in real life, but I think that this novel strays enough from truth to have admitted more room for creativity and entertaining lightening of the subject and tone.
Review by Clurb
16/06/2015
A nicely written bit of historical fiction, but I never felt completely happy with the main character. I passed through phases of feeling suitably sorry for her, to wanting to smack her. Not the best ending in the world either. But a good story.
Review by SilverThistle
16/06/2015
I loved it. The story of a girl overcoming hardships, set in the Forbidden City. She goes from nothing to becoming one of the most formidable women in China at the time. It's a work of fiction but is based on a real character, the Empress Dowager. This book only takes us through her early life though, before she becomes the Dowager empress and the story continues with the sequel. It was wonderful to soak up the atmosphere, pomp and ceremony from the pages and I can't wait to read what happens to her next.
Review by gercmbyrne
16/06/2015
Brilliant read and one I am looking forward to following up! Orchid is an endearing young woman trying to find a way to improve her lot and that of her family. The daughter of a minor official whose death threw the family on hard times, Orchid gets her break as the minor wife of the Emporer never thinking to rise any higher, grateful for the position. However her natural intelligence soon raises her above the others and she finds herself locked in a struggle for survival in a byzantian, machiavellian court setting.
Review by RedBowlingBallRuth
16/06/2015
"Love is survival, seduction is power, and treachery a way of life.."In this wonderful piece of historical fiction, we get a fictional account of the life of Orchid, the last empress of China. We follow her journey from poverty, to one of thousands of concubines, and eventually becoming one of the Emperor's seven wives. Life in the Forbidden City is tough and ruthless, and the way to the Emperer's attention and affection near impossible. As China's foreign problems increase, Orchid finds her life of loneliness getting even harder as she helplessly watches her country falling to pieces at her feet. I loved this book. I greatly enjoy reading about different cultures, and I especially enjoy reading about Asian culture. This combined with my love for historical fiction and romance made this novel a perfect fit for me.