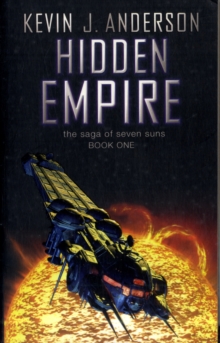 Hidden Empire : The Saga Of Seven Suns - Book One
Paperback
Description
In the far future, humanity began to search the stars, sending out vast spaceships that would take generations to reach their goals.
In the depths of space they encountered the Ildiran empire - apparently the galaxy's only other intelligent civilization.
The Ildirans came to Earth and passed on the knowledge of their stardrive, allowing humanity to expand to the stars.
Almost two hundred years after that first contact, there are human colonies proliferating through the galaxy.
As Mankind seizes the future, danger comes from the past, for two human archaeologists glean forbidden knowledge from the ruins of a dead world.
Once, the insect-like Klikiss ruled the stars. Now, only their robot servants remain, guardians of a terrible technology - the Klikiss Torch, which has the power to create suns.
Now, Humanity prepares to flex its new found muscle and activate the Torch for the first time in millennia, but there are reasons the Klikiss empire fell, and a train of events is about to be set in motion, that will change the universe...
Information
Format: Paperback
Pages: 720 pages
Publisher: Simon & Schuster
Publication Date: 07/07/2003
Category: Science fiction
ISBN: 9780743430654
Free Home Delivery
on all orders
Pick up orders
from local bookshops
Reviews
Showing 1 - 3 of 3 reviews.
Review by ncarman31
16/06/2015
This is an epic space opera of the old school. While it doesn't have the razor edge feel of top class science fiction it is nonetheless an enjoyable and entertaining read, with many different interesting characters and worlds.I would rate this as a good holiday read.
Review by dahuke
16/06/2015
This far future space opera weaves a tale between human cultures and a humanoid alien civilisation that maintain cordial relationships across interstellar space.Using knowledge gleaned from the archaeological remains of a mysterious, extinct alien civilisation, humanity constructs and activates an immensely powerful device which turns gas giant planets into stars.The subsequent cataclysmic attacks by hitherto unknown aliens from within gas giant planets launches a new and unexpected crisis of threat and war drawing in all of humanity and their alien allies.The story introduces a large number of protaganists from amongst various human and alien factions and thereby lays a base for several extensive and interwoven story lines. This makes it clear almost from the outset of this book that it is intended to serve primarily as an introduction to a series.The number of characters and independent story lines make entry into this book difficult, although an attempt to mitigate this is made through the use of extremely short chapters, often of three pages or less. However, the short chapters increased my confusion as each one moves to a different character and allowed me little time to settle into one story arc.The characters initially suffer from a lack of depth and some cliches, but over the course of the book work is done on several of the main characters to build them up. In any case this book appears to be primarily focussed on narrative. Unfortunately character dialogue is at times quite stilted and unconvincing, which distracted me from the characterisation and narrative. Another failing is the repetitive exposition of key story points from one chapter to another in an apparent attempt to remind the reader of what has come before. In the context of the short length of the book, these felt more like the result of the chapters being written quite independently and cobbled together later.Several aspects of the writing style, in particular the poor dialogue and the needlessly repetitious exposition, unfortunately reminded me of the dire Return to Dune books Anderson co-wrote with Brian Herbert. I had assumed the worst excesses of those aberrations were Herbert's fault but now I'm not so sure.Several of the base ideas and themes in the book appeared familiar to me from other writings although there is plenty of legitimate cross pollination and common themes found throughout science fiction. However, the ideas and the narrative did progress well and with enough originality that the book is worth reading despite some failings. By its end the book had caught my interest sufficiently that I will continue on to read at least the next installment in the series.
Review by Toby_Sugden
16/06/2015
Having never read any epic scfi series I decided to borrow Hidden Empire from my local library on the strengh of the reviews on the cover. Well of course this is just asking for trouble. Lets face it, it's not good for business for a publisher to put the bad reviews on is it!One of the biggest problems is that Anderson spends far too long introducing new characters without developing a stong narrative alongside. Instead he seems to leave most of the story telling to the last section of the book by which time i have to admit I was too bored to care! This, coupled with his adequate, although rather pedestrian writing style made it hard to read Hidden Empire through to the end. Another problem that I had with the book was the lacklustre characters who never really developed into anything more than scifi stereotypes.Hidden Empire while not a terrible book is far from brilliant and probably wasn't the best introduction to the scifi epic genre for me. Hopefully I'll have better luck next time.
Also in the THE SAGA OF THE SEVEN SUNS series | View all