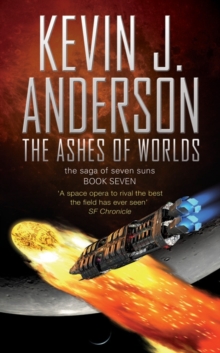 The Ashes of Worlds
Paperback
Description
The allied factions of humanity, along with the waning Ildiran Empire, the powerful water elementals and sentient trees, have defeated the near-invincible race of the hydrogues, driving them back into the depths of gas-giant planets.
But before peace can heal the wounds between the races, two ancient enemies return: the capricious fiery elementals, the faeros, who mean to burn all those who fought alongside their enemies; and the lost hive race of the Klikiss, who intend to reclaim the worlds they inhabited 10,000 years earlier, worlds that are now home to many human colonies.
Meanwhile, the leader of the Terran Hanseatic League, Chairman Basil Wenceslas, intends to pull all of humanity's unruly stepchildren into his iron grip -- even if it means he has to hold the Ildiran Mage-Imperator hostage, risking renewed war with an entire alien civilization.
Thus the myriad storylines of galactic warfare and personal betrayals, starlost romances and titanic alien conflicts are brought to a thrilling conclusion.
Information
Format: Paperback
Pages: 752 pages
Publisher: Simon & Schuster Ltd
Publication Date: 01/06/2009
Category: Science fiction
ISBN: 9781847390912
Free Home Delivery
on all orders
Pick up orders
from local bookshops
Reviews
Showing 1 - 1 of 1 reviews.
Review by markg80
16/06/2015
This book is a mess. I understand that Anderson needs to wrap things up, but the book suffers for it. The plot lines (too many of them) go back and fro. Most chapters are 3 pages long, so when you get into a nice bit of the story, the chapter ends. The main characters do stupid things that don't make any sense at all. After the disappointing Hunters of Dune, Anderson does it again. If you thought that HoD made no sense, Ashes of Worlds makes even less sense. Thinking back to the first few books in this saga I reminder what I liked about them: hard SF. The book takes place in the 25th (26th?) century, but besides some aliens (who act more like humans, what happened to "the thing about aliens is, theyre alien!"?), some spaceships, it could've been a story taking place in this era. There are very few details about the stuff that is interesting in SF: science. Ships travel thru space, but I have no idea how. The Ildarian ships have sails, but are those solar sails? I'm sure it was told in one of the first book (I'm guessing some sort of FTL), but I can't be hassled looking it up again. Also, travelling very very fast in space only works when it's not necessary for the plot.If I need to summarize it in 1 word:mehOnly read it if you've read the first 6 books.
Also in the THE SAGA OF THE SEVEN SUNS series | View all