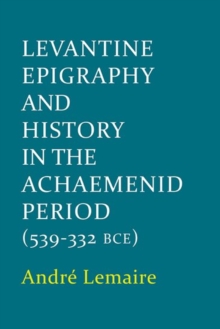 Levantine Epigraphy and History in the Achaemenid Period (539-322 BCE)
Hardback
Description
Inscriptions discovered since 1980 and fresh epigraph research have revealed much about the Archaeminid period in the Levant (533-332 BCE). Andre Lemaire concentrates on three areas where new data has shed light on the societies living in the largest empire that the world had known to that date. Phoenicia played a vital political and economic role in the empire because Persian kings had to rely on the Phoenician navy in their wars against Greece and Egypt in the Eastern Mediterranean.
Newly discovered inscriptions from Byblos, Sidon and Tyre, as well as the results of research into coins, have illuminated the chronology, history and extent of the Phoenician kingdoms, as well as their influence in Palestine. New inscriptions have added to our knowledge of the Judean Diaspora in Babylonia, Egypt and Cyprus.
The main indirect information about the Exiles previously available to us was in the book of Ezekiel.
Now, epigraphic data has revealed not only many names of Exiles but how and where they lived and more about their relationship with Jerusalem. The third region described is the Persian provinces of Samaria, Judaea and Idumaea, especially during the 4th century BCE.
The publication of various, mainly Aramaic, contemporary inscriptions on papyri, ostraca, seals, seal-impressions and coins, sheds new light on the daily life and religion of these provinces.
The insciptions help us to understand something of the chronology, society and culture of these three different provinces as well as several Biblical texts in their historical andeconomic contexts. With over 90 inscriptions illustrated and fully transcribed, this book provides new insight into a period that has proved difficult to study.
Information
Format: Hardback
Pages: 120 pages, 90 b&w illustrations of inscriptions, coins, etc.
Publisher: Oxford University Press
Publication Date: 08/10/2015
Category: Middle Eastern history
ISBN: 9780197265895
Free Home Delivery
on all orders
Pick up orders
from local bookshops
Also in the Schweich Lectures on Biblical Archaeology series | View all