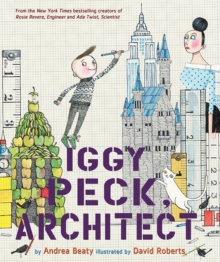 Iggy Peck, Architect
Hardback
Description
Iggy Peck has been building fabulous creations since he was two.
His parents are proud of their son, though sometimes surprised by some of Iggy's more inventive creations (like the tower he built out of used diapers).
When a new second grade teacher declares her dislike of architecture, Iggy faces a challenge.
He loves building too much to give it up! With Andrea Beaty's irresistible rhyming text and David Roberts' unique and stylish illustration, this book will charm creative kids everywhere.
Information
Format: Hardback
Pages: 32 pages, cl / bw / tt illustrations, cl / bw / tt photographs
Publisher: Abrams
Publication Date: 25/06/2007
Category: Picture books
ISBN: 9780810911062
Other Formats
Paperback from £5.95
EPUB from £7.16
Free Home Delivery
on all orders
Pick up orders
from local bookshops
Reviews
Showing 1 - 5 of 7 reviews.
Previous | Next
Review by lauraejensen
16/06/2015
This is the inventive story of Iggy, a passionate if not single minded architect. Iggy has been an architect from toddler hood, reusing and recycling diapers, boots, glue, underwear and fruit roll ups. Children will howl at the icky stuff and cheer for Iggy. Fantastic mixed media, fine use of graph paper. Super to use for an architecture lesson, recycling, children can create their own buildings, or find inspiration from the sharp collages.
Review by missbrandysue
16/06/2015
Iggy is a second grader who makes buildings out of materials kids are around. But his second grade teacher discourages him from doing so until they go on a picnic and he needs to build a bridge to save his class. This is great for my lessons on problem/solution, perseverance, and on career day for those children who want to be builders or architects.
Review by JohannaJ
16/06/2015
The illistration in this book is amazing. This book is great for people who have any interest in architecture. It's very clever and the narrative rhymes.
Review by AbigailAdams26
16/06/2015
I'm going to have to disagree with the majority of online reviewers on this one - I've looked on various sites, and it seems that everybody loves Iggy Peck! - because I found this picture-book celebration of "creativity!" and "marching to the beat of one's own drum" (the two themes most frequently singled out for praise, as far as I can make out), rather poorly done. A rhyming tale about young Iggy Peck, who liked to build things, and his conflict with his stodgy second-grade teacher, Miss Lila Greer, who hated buildings - doesn't this just <i>always</i> happen?!? I <i>often</i> come across people with an irrational fear, not just of heights, but of buildings in general! - <u>Iggy Peck, Architect</u> was a distinct failure, when it came to arousing any sort of enthusiasm, textual or artistic, in me.Some of this is personal, obviously. I didn't really care for David Roberts' artwork, although I did find his use of graphing paper, from time to time, quite intriguing. I didn't care for the themes, not because I don't believe that creativity, and marching to that individualistic drum are important, but because their presentation was so cliched. "Not <i>another</i> drubbing of the poor beleaguered school teacher, everybody's favorite punching bag these days!," I found myself thinking, as I read. "Not another paean to the poor misunderstood child genius, who, after all, only wants to build massive chalk castles, in the middle of his teacher's lesson about something else!" These issues, though, obviously struck other readers' differently. Other readers apparently appreciated the artwork here, and liked the presentation of the themes, which is fair enough. What has me scratching my head a little bit, is the praise they give the sing-songy narrative, which was often-times awkward and stilted, with rhymes that sometimes felt forced.I'm bemused, as always, to be so out of step with the current zeitgeist - it <i>does</i> happen from time to time - but I guess in the end I'll take a page from Iggy's book, and just do my own thing. Which, in this case, involves not caring for Iggy Peck.
Review by ramber1
16/06/2015
This was a really creative and fun book that I really enjoyed reading. Iggy Peck is a boy and since the age of two he loved building things. When he was in the second grade his teacher said that there was no building in his class and he was very sad. On a class trip something happens that makes the teacher change her mind about not building in the classroom. He begins to teach the class about all the great buildings and information about them. The illustrations of the book were very unique and every page was written on graphing paper which I felt was a great touch that added to the story line. It was also written in rhyme which made the book and plot really flow in an organized, upbeat way. I loved the character that Iggy Peck most of all. He was a very believable child and you could his qualities in many children today, like the way he was sulking after his teacher told him he couldn't do something he loved. He was interested in something and he knew that he had to follow his passion which was a great message to send to the readers of the book.