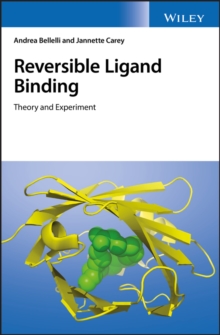 Reversible Ligand Binding : Theory and Experiment
Hardback
Description
Presents the physical background of ligand binding and instructs on how experiments should be designed and analyzed Reversible Ligand Binding: Theory and Experiment discusses the physical background of protein-ligand interactions providing a comprehensive view of the various biochemical considerations that govern reversible, as well as irreversible, ligand binding.
Special consideration is devoted to enzymology, a field usually treated separately from ligand binding, but actually governed by identical thermodynamic relationships.
Attention is given to the design of the experiment, which aids in showing clear evidence of biochemical features that may otherwise escape notice.
Classical experiments are reviewed in order to further highlight the importance of the design of the experiment.
Overall, the book supplies students with the understanding that is necessary for interpreting ligand binding experiments, formulating plausible reaction schemes, and analyzing the data according to the chosen model(s). Topics covered include: theory of ligand binding to monomeric proteins; practical considerations and commonly encountered problems; oligomeric proteins with multiple binding sites; ligand binding kinetics; hemoglobin and its ligands; single-substrate enzymes and their inhibitors; two-substrate enzymes and their inhibitors; and rapid kinetic methods for studying enzyme reactions. * Bridges theory of ligand binding and allostery with experiments * Applies historical and physical insight to provide a clear understanding of ligand binding * Written by a renowned author with long-standing research and teaching expertise in the area of ligand binding and allostery * Based on FEBS Advanced Course lectures on the topic Reversible Ligand Binding: Theory and Experiment is an ideal text reference for students and scientists involved in biophysical chemistry, physical biochemistry, biophysics, molecular biology, protein engineering, drug design, pharmacology, physiology, biotechnology, and bioengineering.
Information
Format: Hardback
Pages: 310 pages
Publisher: John Wiley and Sons Ltd
Publication Date: 29/12/2017
Category: Biochemistry
ISBN: 9781119238485
Free Home Delivery
on all orders
Pick up orders
from local bookshops