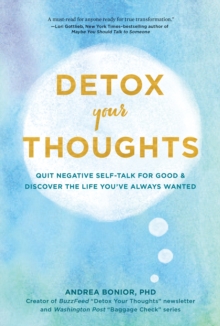 Detox Your Thoughts : Quit Negative Self-Talk for Good and Discover the Life You've Always Wanted
Paperback / softback
Description
Ditch the 10 mental traps that are making you feel anxious and insecure!Toxic thought patterns zap your energy, kill your motivation, and upset your calm.
The good news is that you can change not just the way you think, but the way your brain is wired.
In Detox Your Thoughts, clinical psychologist Andrea Bonior uses techniques from acceptance and commitment therapy (ACT), cognitive behavioral therapy (CBT), and mindfulness to teach you to understand your thoughts--and your body--in a completely different way.
For each of the 10 mental traps, Bonior uses the latest research in psychology and neuroscience to help you disempower and conquer self-sabotaging thoughts and offers a new habit to practice with specific and actionable steps.
Negative thoughts will never go away completely, but with this book, you will learn how to eclipse them, improve your mental and emotional health, and change your life. The perfect book for:- Inspiration, self-help, motivation, and happiness seekers- Anyone looking for practical solutions to turn post-traumatic stress into post-traumatic growth- Fans of the Washington Post and The Lily "Baggage Check" column- Fans of Buzzfeed/Goodful articles and challenges- People who read Psychology Today and Science of Us
Information
Format:Paperback / softback
Pages:256 pages
Publisher:Chronicle Books
Publication Date:13/05/2021
Category:
ISBN:9781797201542