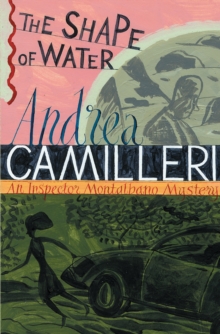 The Shape of Water
Paperback
Description
The goats of Vigata once grazed on the trash-strewn site still known as the Pasture.
Now local enterprise of a different sort flourishes: drug dealers and prostitutes of every flavour.
But their discreet trade is upset when two employees of the Splendour Refuse Collection Company discover the body of engineer Silvio Luparello, one of the local movers and shakers, apparently deceased in flagrante at the Pasture.
The coroner's verdict is death from natural causes - refreshingly unusual for Sicily.
But Inspector Salvo Montalbano, as honest as he is streetwise and as scathing to fools and villains as he is compassionate to their victims, is not ready to close the case - even though he's being pressured by Vigata's police chief, judge, and bishop.
Picking his way through a labyrinth of high-comedy corruption, delicious meals, vendetta firepower, and carefully planted false clues, Montalbano can be relied on, whatever the cost, to get to the heart of the matter.
Information
Format: Paperback
Pages: 256 pages
Publisher: Pan Macmillan
Publication Date: 01/02/2004
Category: Crime & mystery
ISBN: 9780330492867
Other Formats
Paperback from £7.09
EPUB from £6.39
eAudiobook MP3 from £10.04
Free Home Delivery
on all orders
Pick up orders
from local bookshops
Reviews
Showing 1 - 3 of 3 reviews.
Review by Fluffyblue
16/06/2015
This was my first introduction to Inspector Montalbano, and I have to say I loved this book. Camilleri's writing style is very warm and his characters are very much alive (or dead as the case may be!) because of his descriptive prose. It was an intelligent and funny novel and the ending provided a bit of a surprise to me - although looking back, all the clues pointed to the perpetrator. I will certainly be looking out for more of these books in the future.
Review by isabelx
16/06/2015
One day I saw that my friend had put a bowl, a cup, a teapot and a milk carton on the edge of a well, had filled them all with water, and was looking at them attentively."What are you doing?" I asked him. And he answered me with a question in turn."What shape is water?""Water doesn't have any shape!" I said, laughing. "It takes the shape you give it."The first in this series of Sicilian police procedurals was a short book of just under 250 pages, with widely-spaced lines and large margins round each page, so it was a very quick read.The story concerns the discovery of the body of a local politician, in his car in an area notorious for prostitution. He appears to have died of a heart attack so the police are under pressure to close the case quickly, but Inspector Salvo Montalbano, an honest cop in a corrupt system, believes that things are not exactly as they seem at first glance.I'll definitely read the other books in this series if I come across them.
Review by Helenliz
16/06/2015
 This is a bit of a change from the usual run of police detective novel being set in Italy with the brooding but clearly intuitive policeman Salvo Montalbano in charge. There's a death of a politician and he is discovered in the part of town usually reserved for the pimps and prostitutes - but it seems he died of natural causes. However Montalbano doesn't want to close the case - something doesn't fit. More things don't fit when a very expensive necklace is found near the scene and the thing sort of mounts up from there. It all gets a little bit over wrought, and I can almost seen the expressive shoulder shrugs going on. But it's engaging enough. It does have more than its usual share of bad language. I can't decide if that was how it was written, or because it's been translated, but it did get a little repetitive... The end of the book had some notes on phrases or references in the text that may not have been immediately obvious to the non-Italian.
Also in the Inspector Montalbano Mysteries series | View all