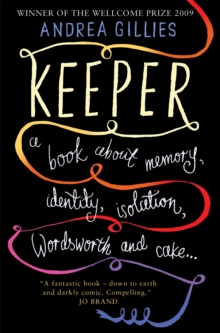 Keeper : A Book About Memory, Identity, Isolation, Wordsworth and Cake ...
Paperback
Description
Can our personalities be taken away from us? Are memory and identity mutually dependent? What exactly is the soul? Three years ago, Andrea Gillies, a writer and mother of three, took on the care of her mother-in-law Nancy, who was in the middle stages of Alzheimer's disease.
This newly extended family moved to a big Victorian house on a headland in the far, far north of Scotland, where the author failed to write a novel and Nancy, her disease accelerated by change, began to move out of the rational world and into dementia's alternative reality.
This book is a journal of life in this wild location, in which Gillies tracks Nancy's unravelling grasp on everything that we think of as ordinary, and interleaves her own brilliantly cogent investigations into the way Alzheimer's works. For the family at the centre of this drama, the learning curve was steeper and more interesting than anyone could have imagined.
Information
Format: Paperback
Pages: 320 pages
Publisher: Short Books Ltd
Publication Date: 20/05/2010
Category: Memoirs
ISBN: 9781906021993
Free Home Delivery
on all orders
Pick up orders
from local bookshops
Reviews
Showing 1 - 1 of 1 reviews.
Review by Citizenjoyce
16/06/2015
Keeper by Andrea Gillies is a thorough look at the emotional and financial cost of caring for a person with Alzheimer's that includes a good bit of writing about the science behind the disease. I came away from it thinking that good institutions really are the best place for people so afflicted. In the case of Gillies' mother in law, Nancy wanted constant motion. Gillies could have spent a solid 5 hours caring for her, trying to amuse her taking her on walks and to a restaurant for apple pie, but when they got home and Gillies put Nancy in a chair and went to make coffee upon her return Nancy was bemoaning the fact that she never did anything with her life but sit in a chair. She never got to go anywhere. Like the man in the movie <i>Memento</i> Nancy had no short term memory, she was unable to make new memories, and she really had no idea what had happened in her life 10 minutes ago. She was also losing her long term memory and worse yet, her emotional control. She was verbally and physically abusive of everyone in the family, suspicious, dirty (she would dump her whole dinner, or worse yet, the contents of her toilet in the bookcase). Being in a home with others and constant care gave her the stimulation and discipline she needed. Gillies complains of finally succumbing to "Caregiver Dementia" herself, she was deeply depressed and thought of death, her children knew Granny had dementia but still couldn't help but be hurt when she attacked them. This is no way for people to live, but we put such praise toward people who are willing, and able, to keep their older loved ones at home we don't see that this is not always the best situation for anyone. Not a cheerful book, but a very honest one. It won both the 2009 Wellcome Trust Book Prize, the United Kingdom's popular science writing award and the 2010 Orwell Prize. I can see why.