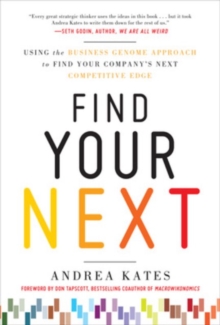 Find Your Next: Using the Business Genome Approach to Find Your Company's Next Competitive Edge
Hardback
Description
THE NEXT BIG THING IN BUSINESS INNOVATION-FROM THE NEXT GENERATION'S BRAND WHISPERERWhat can an oil company (Pennzoil) learn from a great place to hang out (Starbucks) to create a new customer experience (Jiffy Lube)?If you're a manager, an executive, or an entrepreneur, you understand that your business is unique, with its own challenges and rewards.
But thanks to the new science of the Business Genome (R) process, you'll be surprised to see how many businesses share a similar "genetic" structure. And by understanding what works and what doesn't for your business's genomic type, you can play to your strengths, adapt to your weaknesses, and change the course of your company's future. Business Genome project creator Andrea Kates calls it Find Your Next-a field-tested, customized blueprint for mapping out your business DNA in four powerful steps:1.
Sort through your options and assess your hunches. 2. Match your genome to other successful business models. 3. Hybridize your company by grafting new ideas with proven successes. 4. Adapt and thrive by breaking old habits and starting new trends. This high-impact, transformative guide walks you through every step of the process, combining intuition and experience with statistical data and fascinating case studies.
You'll learn how two unrelated businesses-Hyatt Hotels and Sharp HealthCare-discovered untapped opportunities in their customer experience. You'll read how General Motors and OnStar hit the jackpot by examining something that wasn't there.
You'll find in-depth interviews with GE's Mark Vachon, IndieGoGo's Danae Ringelmann, P.F.
Chang's Rick Federico, and other leaders of innovation. And you'll learn how to crack the genetic code behind the six essential building blocks of business-product and service innovation; customer impact; talent, leadership, and culture; process design; trendability; and secret sauce. Once you unlock the secret of your company's DNA, you can evolve your strategy, build your future, and find your next. PRAISE FOR FIND YOUR NEXT"When you add it all up this is indeed a time of great change and arguably much of what we know about management today is becoming obviated.
Which is why Find Your Next is such a helpful contribution to every manager's arsenal.
It embraces the shift from industrial models to models for the 21st century. And it's a great read-packed with great stories and tons of practical advice.
Read, enjoy and prosper."Don Tapscott, from the Foreword of Find Your Next"Every great strategic thinker uses the ideas in this book... but it took Andrea Kates to write them down for the rest of us."Seth Godin, author of We Are All Weird"Andrea Kates is this generation's new 'brand whisperer' and Find Your Next is the best toolkit for landing on your company's 'next.'"Lane Cardwell, President, P.F.
Chang's China Bistro"Andrea Kates's ideas about the Business Genome project are cutting edge.
They will completely transform the way we think about the impact of cross-organizational connections as a way to fuel business growth."James Fowler, author of Connected: The Surprising Power of Our Social Networks and How They Shape Our Lives, and Professor of Medical Genetics and Political Science/UC San Diego"Find Your Next combines radical thinking, innovative insight and real world experience to give corporate leaders a powerful compass in this era of unprecedented economic challenge."Catherine Crier, former judge, journalist and New York Times bestselling author"Years ago I thought about what was next for music fans and turned to lessons learned from NASCAR and the NFL (not other musicians) to come up with the inspiration for the Lollapalooza festival.
That's exactly what Find Your Next provides-an easy-to-follow guide to game-changing innovation based on cross-industry thinking."Perry Farrell, founder of Lollapalooza festival and legendary rock frontman for Jane's Addiction"The difference between a great idea and a great business result is the ability to integrate insights from lots of different sources and get an entire organization on board quickly.
Kates is onto something truly novel-Find Your Next could easily become the new industry standard for innovation.
A must-read."Mark Vachon, GE Company Officer"If you thought you've been thinking creatively about your business, get ready for a new ride. In her book, Andrea Kates describes the Business Genome approach-a radically fresh roadmap to infuse innovative change into your business. Pure magic."Nick Pudar, Vice President Strategy & Business Development, OnStar"Andrea has a deep technical understanding based on years of global experience in innovation combined with a rare talent for communicating important issues very simply.
The approach she describes in Find Your Next is so easy to grasp-you'll see things differently and be able to lead your teams in refreshing new directions."Herwig Maes, Director of Strategic Sourcing & Supplier Relationship Management, Johnson & Johnson"Find Your Next is the missing book on every business leader's book shelf that fits right between Michael Porter and Malcolm Gladwell.
It's the playbook we've been wanting for hands-on innovation."Emily Watkins, Sr.
Vice President, Innovation & Product Development, Jones Lang LaSalle"What every business leader wants is tomorrow's news, today.
Find Your Next provides exactly that-a manifesto for innovators based on time-tested techniques.
Mandatory reading."Tom Stat, Executive Director, Edison Universe; Adjunct Lecturer, Farley Center for Entrepreneurship and Innovation, McCormick School, Northwestern University; and independent innovation consultant"Find Your Next brings together a collection of insights and approaches that challenge everyone in an organization-from the CEO to the front line-to be nimble and build new muscles for rapid innovation.
It disrupts the patterns of incremental growth from traditional strategic planning.
The result is a process that can get your organization to market faster and leapfrog the competition."Alistair Goodman, CEO, Placecast LEARN MORE ABOUT THE FIND YOUR NEXT / BUSINESS GENOME APPROACH: businessgenome.com
Information
Format: Hardback
Pages: 256 pages, 15 Illustrations, unspecified
Publisher: McGraw-Hill Education - Europe
Publication Date: 08/11/2011
Category: Business & management
ISBN: 9780071778527
Free Home Delivery
on all orders
Pick up orders
from local bookshops