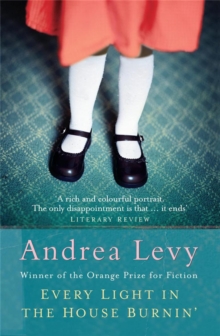 Every Light in the House Burnin'
Paperback
Description
The remarkable, emotional debut novel, both funny and moving, which was longlisted for the Orange Prize for Fiction, from the critically aclaimed Andrea Levy, author of the Orange Prize winning SMALL ISLAND and the Man Booker shortlisted THE LONG SONG.'Better opportunity' - that's why Angela's dad sailed to England from America in 1948 on the Empire Windrush.
Six months later her mum joined him in his one room in Earl's Court......Twenty years and four children later, Mr Jacob has become seriously ill and starts to move unsteadily through the care of the National Health Service.
As Angela, his youngest, tries to help her mother through this ordeal, she finds herself reliving her childhood years, spent on a council estate in Highbury.
Information
Format: Paperback
Pages: 256 pages
Publisher: Headline Publishing Group
Publication Date: 23/02/1995
ISBN: 9780747246534
Free Home Delivery
on all orders
Pick up orders
from local bookshops
Reviews
Showing 1 - 4 of 4 reviews.
Review by cushlareads
16/06/2015
This is Andrea Levy's first novel, and it's semi-autobiographical. Angela, the narrator, is the youngest of 4 kids. Her Mum and Dad, Beryl and Winston but called Mum and Dad even by each other, emigrated from Jamaica just after the war. Dad works at the post office, and Mum was a well-educated teacher in Jamaica but has to start from scratch in London. Mum eventually gets her UK teaching qualifications and does an Open University degree at night time. Money is very tight.The story flips between Angela's childhood and the present time. Dad is terminally ill with lung cancer. The book is about Dad's treatment under the NHS and tells a grim story of the frustration with the system's lack of coordination, the condescending attitudes of many of the medics they encounter, and the lack of dignity that comes at the end of life. The GP treats them like rubbish, the district nurse is rude and won't help with anything useful, the hospice provider is lovely but not allowed to visit him in the hospital, etc. The book is full of scenes like this one at the hospital, where they are trying to get her Dad's slippers onto his feet:" I put my hand around my dad's calf. ... I lifted it and let it gently down on to the stool. I sat down again. I was now close to my dad's feet. They were swollen, dirty and black on the bottom. And they smelt of decay, not rotting flesh. I looked at the toenails, no longer transparent but opaque and brown, curled and full of dirt, like walnut shells on the ends of his toes. He couldn't have cut them since the last time he could bend in the middle, which was a history ago. I tried to look away, look round the ward, listen to other conversations, but the smell began to make me feel sick."There needed to be more genuinely happy bits for me to enjoy it more - I just knew that it was going to get sadder and sadder, and even the childhood stories are about a family trying to fit in to the community. Angela is under strict instructions at Sunday school not to let on that they have sausages for Sunday dinner. There's a cringe-making scene when Dad's sister and her husband from Jamaica come to visit, and Angela keeps giving away that things are not qutie as ritzy as Dad's making them out to be - and the power runs out halfway through their visit and they don't have 2 shillings to put into the meter. There's some funny stuff too - Angela comes out of the hairdresser done up like Cilla Black - but not enough. The last chapters are really well written but very upsetting. I gave it 4 stars,but recommend it only if you haven't got someone close to you who's recently died or is very sick.
Review by AriadneAranea
16/06/2015
In this compelling novel, narrator Angela Jacobs witnesses the slow death of her father and remembers the scenes of her own childhood, growing up in London as the youngest child of her Jamaican parents. The characters most strongly drawn are Angela herself and her parents – her father is so real you can see him.I don't know what else to say except: read it. It is real, unswerving, and funny too – as vivid a portrait as you could hope to find.
Review by DubaiReader
16/06/2015
So nearly a 5* rating.This was an eye-opening revelation of the failings of the British National Health Service in the 1960's; the insensitivity and red tape that patients and loved ones had to struggle with. I'm glad to say I was too young to have first hand experience of this and can only hope that things have improved??Interspersed with these heart-wrenching episodes are the revealing experiences of Angela (Anne) Jacobs, growing up a British Carribean immigrant in North London. She is strangely positioned between the British population and the African immigrants, being of lighter colour, but she experienced many of the same prejudices.There were some great laugh-out-loud moments and some desperately sad ones too, a book full of raw emotion. The characters were wonderful - Angela's two teenage sisters immediately jump to mind.Unfortunately the slightly sticatto nature of the early chapters detracted from this book and it was definitely 4* throughout until I hit the last few chapters which were just brilliant! Not quite as good as Small Island but then this was Levy's first book and it certainly came a close second.
Review by flydodofly
16/06/2015
a simple story of lives small but, as always, singular, which makes it all not so simple to cope with after all.