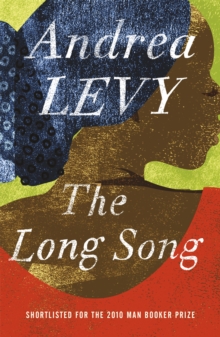 Description
Shortlisted for the Man Booker Prize, The Long Song by multi-million-copy bestselling author Andrea Levy is a hauntingly beautiful, heartbreaking and unputdownable novel, which will resonate with everyone who went to see the Oscar-winning film 12 Years a Slave and fans of Sue Monk Kidd's The Secret Life of Bees. 'A marvel of luminous storytelling' Financial Times You do not know me yet.
My son Thomas, who is publishing this book, tells me, it is customary at this place in a novel to give the reader a little taste of the story that is held within these pages.
As your storyteller, I am to convey that this tale is set in Jamaica during the last turbulent years of slavery and the early years of freedom that followed. July is a slave girl who lives upon a sugar plantation named Amity and it is her life that is the subject of this tale.
She was there when the Baptist War raged in 1831, and she was present when slavery was declared no more.
My son says I must convey how the story tells also of July's mama Kitty, of the negroes that worked the plantation land, of Caroline Mortimer the white woman who owned the plantation and many more persons besides - far too many for me to list here. But what befalls them all is carefully chronicled upon these pages for you to peruse. Perhaps, my son suggests, I might write that it is a thrilling journey through that time in the company of people who lived it.
All this he wishes me to pen so the reader can decide if this is a novel they might care to consider.
Cha, I tell my son, what fuss-fuss. Come, let them just read it for themselves.
Information
Format: Paperback
Pages: 432 pages
Publisher: Headline Publishing Group
Publication Date: 01/01/2011
ISBN: 9780755359424
Other Formats
EPUB from £4.99
CD-Audio from £16.95
Free Home Delivery
on all orders
Pick up orders
from local bookshops
Reviews
Showing 1 - 5 of 5 reviews.
Review by eleanor_eader
16/06/2015
As the child of a slave, July is plucked from her Mama's side to become companion to the petty-minded white sister of the Amity plantation's Massa, a transition that finds her well placed to watch the consequences of the newly granted freedom. Freedom that seems to July - still curiously chained to the will of Caroline Howarth - a powerful but elusive concept.Historical fiction should, I think, make of the history to which it is tied another character, one that moves and gives context to the depicted lives; and that is exactly what Andrea Levy does in <i>The Long Song</i>. Miss July's life is not merely enacted with the scope of the timeline; it is entirely shaped and engulfed by it. From the easy contempt with which she is plucked from her mother, to the way in which she is drawn to the perceived power of being the mistress of Caroline's husband later on, Miss July's relationship with 'Free' is the important one in this book.This wasn't an unflawed tale – even Miss July's tart observation gives no nuance to the character of Miss Caroline, who was depicted as a creature of banal ignorance and shallowness to the point of caricature. While many such negligent (or even negligible) people held the fates of slaves and 'free' servants, it became difficult to respond to that character – either pityingly or with disgust - without feeling manipulated by the author. There were also times when some of the characters' histories were given in chunks that jarred with the flow of the rest of the story. Otherwise, I found this compellingly told, moving and insightful. It was my intention to read <i>Small Island</i>, but found this first, and nothing about it puts me off my original goal.
Review by lit_chick
16/06/2015
The Long Song is set in 1820s Jamaica, a turbulent period in the island's history as the slaves labouring on sugar plantations fought to be free. Miss July, housemaid to the ample Caroline Mortimer, owner of Amity Sugar Plantation, narrates. The Long Song is a framing narrative: at the same time July is narrating the story of the Amity slaves, she is writing a book at the urging of her son. She tells her readers, "your storyteller is a woman possessed of a forthright tongue and little ink." Indeed, readers will soon understand that July has no time for "the puff and twaddle of some white lady's mind." (ch 1) Hilariously, she warns one last time before launching into her tale:"Let me confess this [forthrightness] without delay so you might consider whether my tale is one in which you can find an interest. If not, then be on your way, for there are plenty books to satisfy if words flowing free as the droppings that fall from the backside of a mule is your desire." (ch 1)July is delightful, sometimes hilarious, company throughout The Long Song. I enjoyed her sparse, straightforward style of storytelling. She is compassionate and honest, but never sensational; and her voice is steady and confident. She knows the story of the Amity slaves is her story, and she tells it well.I particularly liked that Andrea Levy is able to write about a sensitive subject without sensationalizing and sentimentalizing. July leaves readers no doubt as to the violence of the period; but violence is not the point of her story. In the same way, Levy is authentic and believable as she writes about the lives of Jamaica's slaves post-abolition. Their freedom, long sought and hard won, came with a hefty price. Indeed, in its early years, the "victory" of freedom wore the face of destitution, even starvation. Recommended to readers who enjoy historical fiction, readers interested in slavery and abolition.
Review by rainpebble
16/06/2015
This story, The Long Song by Andrea Levy, is interesting, even fascinating at times. That proved to be the problem for me....at times. It is about Miss July, (Marguerite as she came to be called by her mistress), a slave in Jamaica on an elite plantation during the days of excess, the days of the Queen freeing the slaves, the days of the freed slaves revolting and the days of the failing plantations. Miss July is a very interesting character and if the book had chosen to stay on the task it began, I think it would have been much better but it chose to go off in different directions that I found distracting. Characters would be introduced that you liked but then came to disrespect. Miss July was always the same and I liked her a great deal. My biggest gripe comes at the end of the book when it goes into her son's journalism and I just pretty much got bored with the whole thing by then, but for the fact that I knew we would come back to Miss July. And we did. I reluctantly recommend this book. I think some will really like it and some not. I am just below the middle of the graph and gave it 3 stars. I scored it that high for the hope that I found within it and for the first 4/5 of the book.
Review by kevinashley
16/06/2015
Darker than Small Island but still with powerful characters (few of whom are entirely sympathetic) and flashes of humour, particularly in the interactions between the novel's narrator, July, and her son Thomas Kinsman.July is born into slavery on a Jamaican plantation in the 19th century. During her lifetime upheaval is followed by, and follows, the process of emancipation. The premise of the book is that she is writing down her life story at the urging of her son, now in the printing trade. The story is intermingled with her observations on the writing process, her son;'s observations on what she writes, and her opinions of her son's opinions. It's thus both her life story and the story of the telling of it, and this combination makes the novel special.A great read, well-researched with sources cited in the afterword. It portrays the complexity of human relationships in this tragic and unfortunate period of history and shows how discrimination operates at many levels.On writing this review, I was moved to read the 'foreword' (by Thomas, the son of the narrator) again. I recomend you do the same after reading the book. It makes so much more sense then.
Review by bhowell
16/06/2015
A vivid protrayal of a young woman's life during the fall of slavery in British colonial Jamaica.