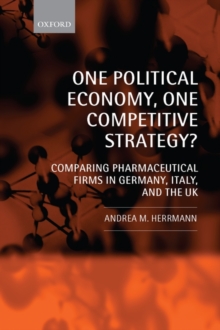 One Political Economy, One Competitive Strategy? : Comparing Pharmaceutical Firms in Germany, Italy, and the UK
Hardback
Description
This book examines how firms adapt to the pressures of increasing international competition by testing the arguments on 'strategy specialization' proposed in the competitiveness literature in general, and by contributors to the 'varieties of capitalism' debate in particular.
If different economies are characterized by distinct institutional arrangements, successful firms would be those that exploit the related comparative advantages and specialize in the competitivestrategies facilitated by national institutions. One Political Economy, One Competitive Strategy? begins with an assessment of how many pharmaceutical firms in Germany, Italy, and the UK pursue strategies facilitated by national institutions governing the financial markets, antitrust activities, and the labour market.
Quantitative analyses reveal that deviant firms, competing through institutionally unsupported strategies, outnumber conforming firms by far.
Not only does this finding run counter to the expectations of thecompetitiveness literature, it brings up a whole new line of inquiry.
How can firms compete through strategies that are not supported by national institutions?
The book addresses this question and illustrates that firms do not necessarily exploit comparative institutional advantages, but that they can also circumventinstitutional constraints.
International markets and individual collaboration on a contractual basis allow firms to compete despite comparative institutional disadvantages.
These findings suggest that trade liberalization does not lead to strategy specialization but to strategy diversification, depending on the inventiveness of entrepreneurs to develop individual approaches to compete.
Information
Format: Hardback
Pages: 222 pages, numerous tables
Publisher: Oxford University Press
Publication Date: 01/09/2008
Category: Political economy
ISBN: 9780199543434
Free Home Delivery
on all orders
Pick up orders
from local bookshops