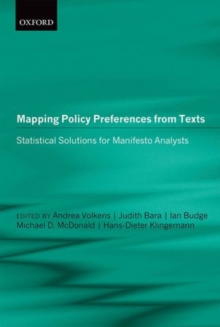 Mapping Policy Preferences from Texts : Statistical Solutions for Manifesto Analysts
Hardback
Description
The Manifesto data are the only comprehensive set of policy indicators for social, economic and political research.
It is thus vital that their quality is established. The purpose of this book is to review methodological issues that have got in the way of straightforwardly using the Manifesto data since our two preceding volumes were published and to resolve them in ways which best serve users and textual analysts in general.
The book is thus generally abouttext-based quantitative analysis with a particular focus on the quality of the CMP-MARPOR data and ways of assessing and using them,In doing so the book goes beyond normal data documentation - essential though that is - to confront the analytic issues faced by users of the data now distributed by MARPOR. It also provides concrete strategies for tackling these at the research level, with examples from the field of political representation. The problems of uncertainty, error, reliability and validity considered here are generic issues for political analysts in any area of research, so the book has an interest extendingbeyond the Manifesto estimates themselves - in particular to other textual analyses. In addition the book widens the range of applications introduced in our two previous volumes and discusses the extension of the manifesto project database to cover Latin America.
Information
Format: Hardback
Pages: 346 pages, 51 Figures, 76 Tables
Publisher: Oxford University Press
Publication Date: 07/11/2013
Category: Comparative politics
ISBN: 9780199640041