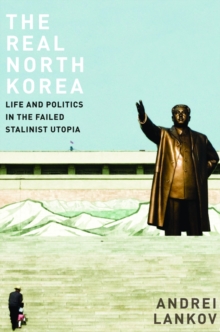 The Real North Korea : Life and Politics in the Failed Stalinist Utopia
Hardback
Description
Andrei Lankov has gone where few outsiders have ever been.
A native of the former Soviet Union, he lived as an exchange student in North Korea in the 1980s.
He has studied it for his entire career, using his fluency in Korean and personal contacts to build a rich, nuanced understanding.
In The Real North Korea, Lankov substitutes cold, clear analysis for the overheated rhetoric surrounding this opaque police state.
After providing an accessible history of the nation, he turns his focus to what North Korea is, what its leadership thinks, and how its people cope with living in such an oppressive and poor place. He argues that North Korea is not irrational, and nothing shows this better than its continuing survival against all odds. A living political fossil, it clings to existence in the face of limited resources and a zombie economy, manipulating great powers despite its weakness. Its leaders are not ideological zealots or madmen, but perhaps the best practitioners of Machiavellian politics that can be found in the modern world. Even though they preside over a failed state, they have successfully used diplomacy-including nuclear threats-to extract support from other nations. But while the people in charge have been ruthless and successful in holding on to power, Lankov goes on to argue that this cannot continue forever, since the old system is slowly falling apart.
In the long run, with or without reform, the regime is unsustainable.
Lankov contends that reforms, if attempted, will trigger a dramatic implosion of the regime.
They will not prolong its existence. Based on vast expertise, this book reveals how average North Koreans live, how their leaders rule, and how both survive.
Information
Format: Hardback
Pages: 304 pages
Publisher: Oxford University Press Inc
Publication Date: 01/04/2013
Category: Political ideologies
ISBN: 9780199964291
Free Home Delivery
on all orders
Pick up orders
from local bookshops
Reviews
Showing 1 - 5 of 6 reviews.
Previous | Next
Review by robertmorrow
16/06/2015
I received an uncorrected advance copy via LibraryThing's book giveaway, a very fortunate occurrence indeed! Mr. Lankov has written a concise but rich study of a country that has baffled many for decades. The descriptions of the dynamics of North Korean society are eye-opening, and his survey of North Korean history is both informative and engaging. He convincingly explains the method behind the apparent madness, which helps to bring North Korea into the realm of a solvable problem; however, he is also realistic in his extensive appraisal of strategy and possibility, so the North Korean people will have to suffer a good while longer before they know what a healthy society feels like.
Review by minfo
16/06/2015
Problems with proofreading notwithstanding, this is a work which provides extensive background information on a part of the world 'the rest of us' will never see except through the slanted lenses of our media. It provides the reader with an understanding of why there's such a disconnect between politicians' beliefs and actuality. While the most recent current events might not be here, it does take the reader up through the regime change and provides a very worthwhile understanding from which to form judgements on what will likely continue to happen in the current decade. Some very good information indeed!
Review by sherman1951
16/06/2015
There is no doubt that North Korea is governed by a rather evil, totalitarian dictatorship. We are now on the third generation of Kim's, slightly ahead of Cuba as a communist monarchy. Since the police action (it was never a declared war) of the early 1950s, the US has always struggled with our policy toward the current Kim in power. Should we engage and hope that they will become better or should we ignore until they become better? As Andrei Lankov tells it, neither policy has been very effective. But then any policy towards North Korea is bound to fail. Not because they are irrational, crazed communists. We learn that they are acting extremely rational for a rogue state. When we ignore them they threaten nuclear annihilation; when we engage them they make a few promises to be better, and usually before the ink is dry, revert to their old ways. Regardless, they usually get something of what they want. After all, this "failed" state continues to survive (China may now be propping it, but they appear to be getting frustrated with the North Koreans approach to international relations). It has been fascinating to observe how, in these days of Internet and global communications, North Korea maintains its stranglehold on its population. It is easier to understand why – whether it is radios that are "locked" to official state frequencies, continued use of gulags to hold not only political dissidents but complete families as well, we get to know North Korea a lot better as a result of this book. While some of the author's prose is off-putting (suffice it to say, suffice it to say is an overused phrase), this is a valuable contribution to our understanding of North Korea. Lankov is from the former Soviet Union and lived in North Korea as an exchange student in the 1980s. The most recent huffing and puffing from the latest Kim — Kim Jong Un — is really just a continuation of what we've seen before. Personally, ignoring them would be the best policy. They are not a threat to anyone, except maybe themselves.
Review by lucas20
16/06/2015
This was a really solid book that reviews the "academic" side of North Korea -- how we got here and where we're going. The best part about this book is the unique perspective of the Russian author. The tidbits from this perspective were the best gems of this work. At times the book was unnecessarily repetitive and dull, but compared to the existing canon of North Korean books that discuss exciting escapes and mind blowing depravity this is to be expected from this more academic work.
Review by wolfjack
16/06/2015
(Disclaimer: Received this book through the Early Reviewer program.)Insightful and descriptive, sums up this academic and well-researched work.Even though I could expect to see this as a successful textbook in a college class, I never felt "talked down to" or anything like that. The book has a lot of information, arguments, and hypotheses, but doesn't push anything specific onto the reader, this was not a one-sided propaganda type presentation. Well thought out and presented quite a few stories or real-life depictions as given to the author by the people who lived through them.The author mentions that he spent a time in the country as, I believe, an exchange student or student, which was acceptable to North Korea due to him being from Leningrad, Russia. So it seems as he has a good network of connections or friendships kept up even after he left the country.I especially enjoyed Parts 5 & 6:' What to Do about the North?' & ' Being Ready for What We Wish for'These sections were very interesting and made me appreciate the quandry that North Korea and the international body of countries dealing with it are in. This portion of the book really brought the issues and possibilities into stark "reality" for me. It presented a variety of potential futures for the world & North Korea's part in it. Also gave several different angles on the whys/why nots that certain approaches may be of use in bringing unification of the Koreas into being and/or at least the betterment of life for the North Korean populace until the regime were to fall or drastically change it's current structure and behaviors. I did find a handful or so of my pet peeves: spelling, grammar, missing word typos. They were not drastic and I do make allowance that the author is Russian and the beginning of the piece does state a translator/interpreter was used in the writing. There were some small instances of the definite article missing (a, an, the) which actually, I think, is representative of the Russian language, which doesn't have them. Just mentioning this, I was impressed with the book nonetheless. This is though, technically an uncorrected proof, so hopefully the finished product will shine like the content does.I'd recommend this book to students of History, especially Asian history, also could be recommended to those interested in Political Science (especially those specializing in dictatorships).