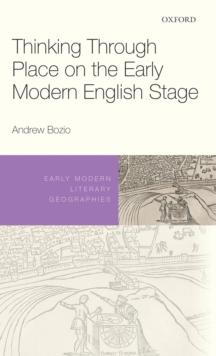 Thinking Through Place on the Early Modern English Stage
Hardback
Description
Thinking Through Place on the Early Modern English Stage argues that environment and embodied thought continually shaped one another in the performance of early modern English drama.
It demonstrates this, first, by establishing how characters think through their surroundings - not only how they orient themselves within unfamiliar or otherwise strange locations, but also how their environs function as the scaffolding for perception, memory, and otherforms of embodied thought.
It then contends that these moments of thinking through place theorise and thematise the work that playgoers undertook in reimagining the stage as the setting of the dramatic fiction.
By tracing the relationship between these two registers of thought in such plays as The Malcontent, DidoQueen of Carthage, Tamburlaine, King Lear, The Knight of the Burning Pestle, and Bartholomew Fair, this book shows that drama makes visible the often invisible means by which embodied subjects acquire a sense of their surroundings.
It also reveals how, in doing so, theatre altered the way that playgoers perceived, experienced, and imagined place in early modern England.
Also in the Early Modern Literary Geographies series | View all