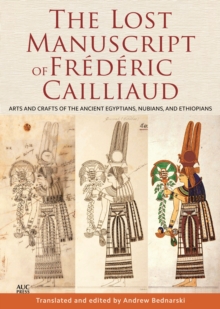 The Lost Manuscript of Frederic Cailliaud : Arts and Crafts of the Ancient Egyptians, Nubians, and Ethiopians
Hardback
Description
The travel accounts, drawings, and collections of Fr d ric Cailliaud were an important early contribution to the birth of the new scientific discipline of Egyptology in the first half of the nineteenth century.
But one of his major works--on the arts and crafts of ancient Egypt--was never published.
For the first time here, his exquisite color plates are presented alongside a translation of his original French text describing them.
Explanatory material by Andrew Bednarski and other scholars puts the work in context.
Arriving in Egypt in 1815, Cailliaud embarked upon a series of explorations that included the rediscovery of the Roman emerald mines at Mount Zabora and ancient routes to the Red Sea, and expeditions in the Eastern and Western Deserts and the land we know today as Ethiopia.
He made copious notes on the flora and fauna, people and antiquities he saw, and took a collection of over two thousand objects back to France.
Cailliaud's beautifully rendered watercolors of scenes on ancient Egyptian tombs and temples (viewed before Champollion's deciphering of Egyptian hieroglyphs) show animated scenes of ancient daily life, with which he draws parallels to the nineteenth-century activities he observed around him.
This is a work that will appeal not only to Egyptologists (professional and amateur), but also to historians, art historians, and readers interested in design.
The original French text, never before published, is included in electronic form.
Information
Format: Hardback
Pages: 320 pages, 124 colour integrated
Publisher: The American University in Cairo Press
Publication Date: 18/12/2013
Category: Ancient & classical art,BCE to c 500 CE
ISBN: 9789774166167